US white supremacists arrested at Idaho gay pride event - police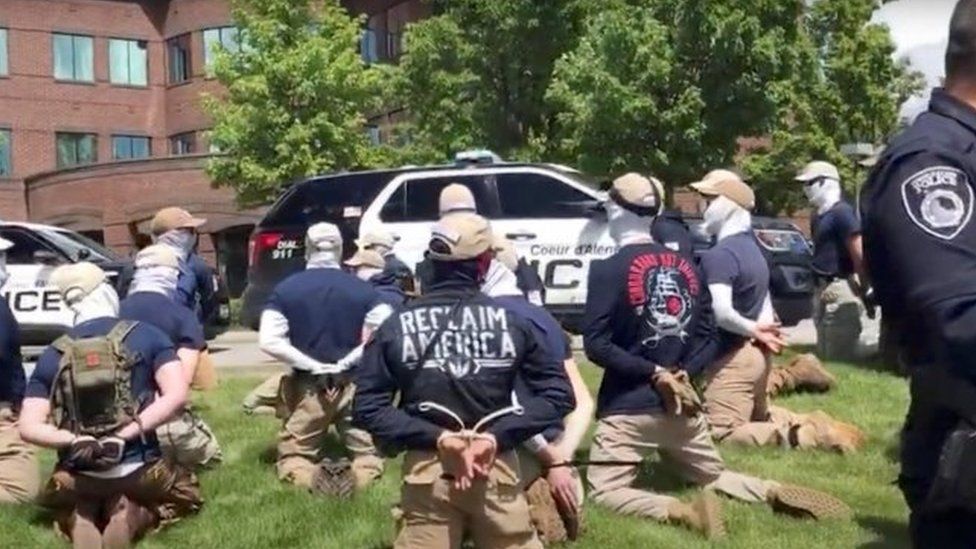 Police in the US state of Idaho have arrested 31 members of a white supremacist group and charged them with plotting to riot at a gay pride event.
Police say they were tipped off by a local resident in the city of Coeur d'Alene, who had spotted the men with masks and shields getting into a lorry.
The vehicle was soon stopped, and the men - members of the Patriot Front group - were arrested.
"They came to riot downtown," Coeur d'Alene Police Chief Lee White said.
He added that riot gear and a smoke grenade were found in the vehicle.
The lorry was stopped near where the North Idaho Pride Alliance was holding the Coeur d'Alene Pride in the Park event.
The arrested men in the north-western US state have so far made no public comments.
Photos and videos have emerged on social media showing the accused in masks kneeling on the grass with their hands tied behind their backs.
The police revealed that they were alerted by the local resident, who called them to say that it "looked like a little army" was loading up into the lorry.
The arrested members of Patriot Front are from 11 different US states - and only one of them from Idaho, police said.
Patriot Front was formed in 2017 after the deadly Unite the Right rally in Charlottesville, Virginia.
The group's manifesto calls for the formation of a white ethnostate in the US, according to the Southern Poverty Law Center, which tracks hate groups.
"Patriot Front focuses on theatrical rhetoric and activism that can be easily distributed as propaganda for its chapters across the country," the SPLC said of the group.
The anti-racism organisation ADL says Patriot Front belongs to the alt-right segment of white supremacists, but claims to be "patriotic". It has called for "American Fascism", describing it as a "return to the traditions and virtues of our forefathers", ADL says.
The group's manifesto claims that non-whites are not "Americans" and its symbols include the fasces - a Roman bundle of sticks representing authority and used last century by Mussolini's Italian Fascists, ADL says.
You might also be interested in: