Toronto police use more force against ethnic minorities - report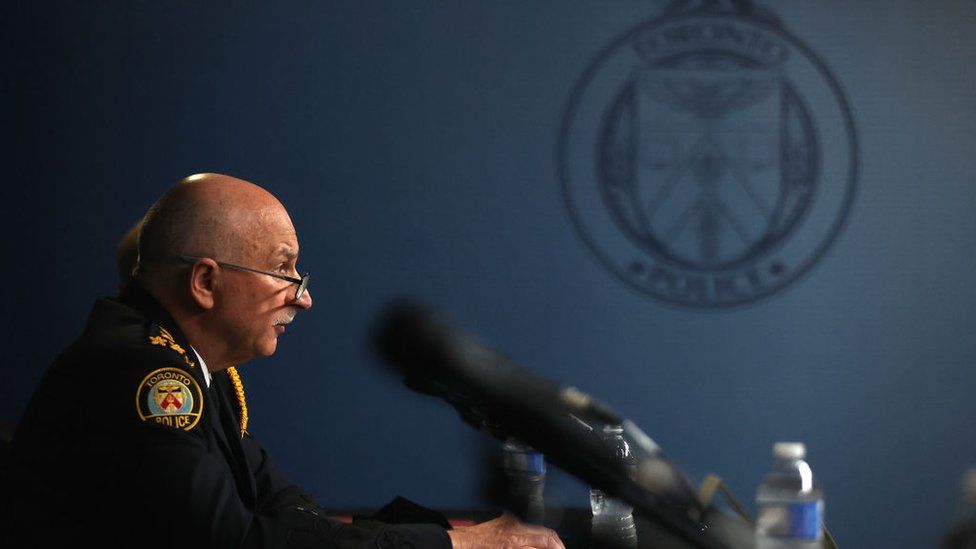 Black people are two times as likely to have an interaction with Toronto police, and 1.6 times as likely to have force used on them, a report has found.
The report from Canada's largest municipal force confirmed longstanding concerns ethnic minorities are disproportionately targeted by police.
Police Chief James Ramer apologised on Wednesday for the "pain" caused by the evidence of biased policing.
"There is systemic discrimination in our policing," he said.
The expansive statistics released today were drawn from 949 use-of-force incidents and 7,114 strip searches by Toronto police in 2020.
The report found that black, indigenous, Middle Eastern and Asian Torontonians were over-represented in both use-of-force incidents and strip searches relative to their total population in the Canadian city.
The racial disparities remain regardless of the reason for calls or what the main offence turned out to be. Race was the only major observable variable.
Police also tended to use a higher degree of force against those residents compared to white people, especially when it came to drawing firearms.
Black, South Asian and East/South Asian people were much more likely - 1.5 times, 1.6 times and two times, respectively - to have an officer point a firearm at them during a police interaction, whether they were perceived as armed or unarmed.
"As chief of police and on behalf of the people, I am sorry and I apologise unreservedly," Chief Ramer said on Wednesday.
The apology was rejected by advocate Beverly Bain, from the No Pride in Policing group.
"Chief Ramer, we do not accept your apology," she said, calling the news conference a "public relations stunt".
The release of data this week follows several recent reports from human rights and police watchdogs that have called for reforms within the police service following some high-profile incidents.
Last year, a Ontario Human Rights Commission report found that black people were "grossly over-represented" in terms of arrests, charges and over-charges by the Toronto Police Service, and more likely to be struck, shot or killed.
On Wednesday, Toronto police also released 38 actions the force said will help address the racial discrimination in use-of-force and strip searches, including a series of upcoming town halls.
Race-based policing data began to be collected by the force following a 2019 directive by the provincial government's anti-racism act.