'Flashy' NYC bishop robbed of $1m in jewellery during live sermon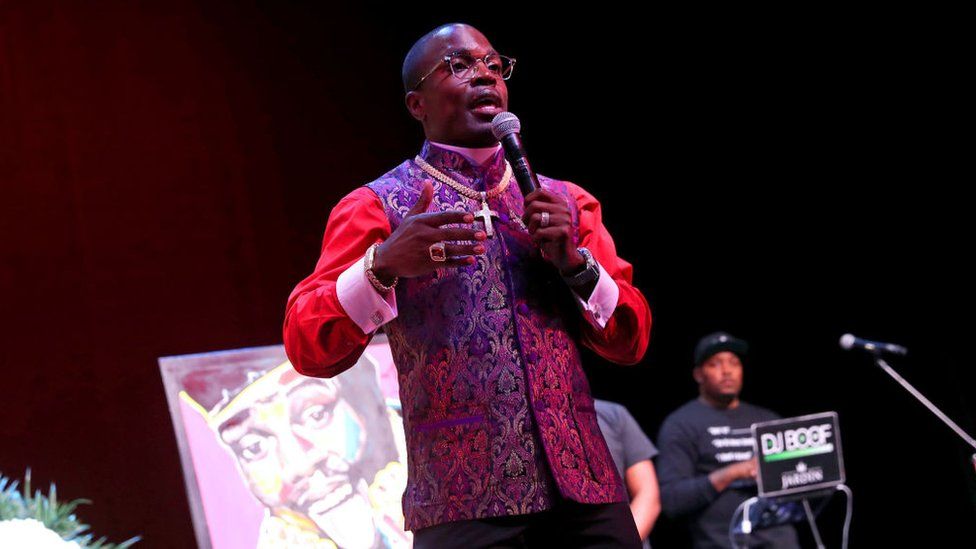 A preacher known for his flamboyant lifestyle was robbed of more than $1m (£840,000) in jewellery during a livestreamed sermon in the city of New York.
Lamor Whitehead, 44, has vowed that the culprits "won't get away with it"
Among the items taken from the flashy, Rolls Royce-driving clergyman were Rolexes, diamonds and emeralds.
Police are still investigating the incident. No suspects have so far been named or apprehended.
In the video Mr Whitehead is heard asking "How many of you have lost your faith because you saw somebody else die?" moments before several black-clad gunmen entered the church in Brooklyn.
It is not clear how many people were in attendance during the service.
"When I see them come into the sanctuary with their guns, I told everybody [to] get down, everybody just get down," he later said on Instagram.
"I didn't know if they wanted to shoot the church up or if they were just coming for a robbery."
According to Mr Whitehead, the masked thieves escaped in a Mercedes.
Following the robbery, the New York Post reported that the items taken from him and his wife included $75,000 Rolex and Cavalier watches, a $25,000 Episcopal ruby and diamond ring and a $25,000 pair of earrings - and even his wedding band.
"For you to kick in a church door and come with guns in the middle of service - what God is gonna do to y'all is above my paygrade,'' he said of the thieves on Instagram.
The BBC has reached out to Mr Whitehead for comment.
In a statement, New York City mayor Eric Adams - who has known Mr Whitehead since at least 2013 - said that New York Police Department was investigating the crime.
"No one in this city should be the victim of armed robbery, let alone our faith leaders," Mr Adams said.
Mr Whitehead, for his part, has offered a $50,000 reward for information leading to an arrest.
The robbery isn't the first time that the bishop has been in the news. Just two months ago, he reportedly attempted to negotiate the surrender of a suspect who shot and killed a man on a Manhattan-bound subway train.
The latest incident, however, prompted a torrent of criticism on social media about his luxurious tastes and opulent lifestyle.
"It's not about me being flashy," Mr Whitehead said. "It's about me purchasing what I want to purchase."