Isis Beatles: 'Four hours with the militant who murdered my son'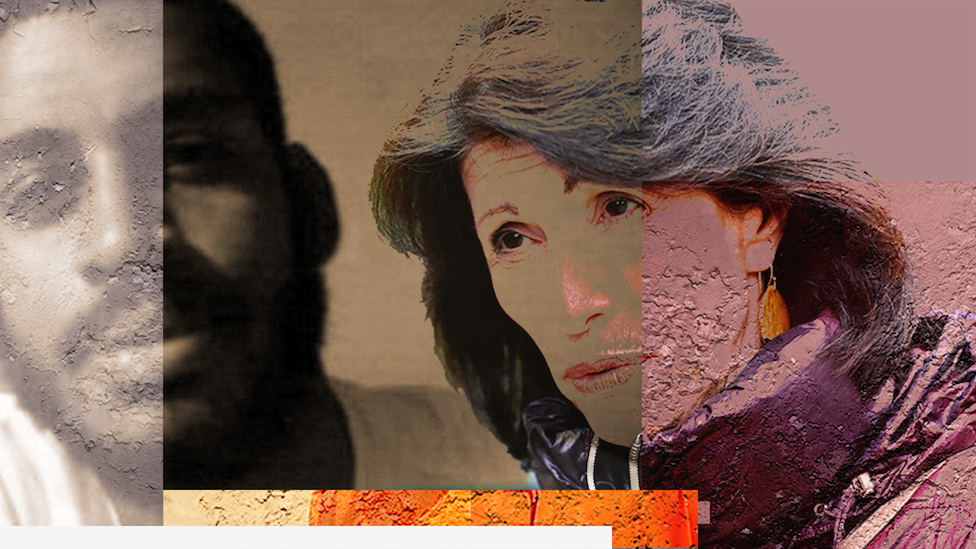 Two men who helped murder American journalist James Foley as part of the Islamic State group's campaign of terror are facing justice in the US. One of them was sentenced for terror crimes on 19 August. James's mother sat face-to-face with the other.
It was a cold morning in Virginia last year when Diane Foley sat opposite the man who kidnapped and helped murder her son, looking him fully in the face as they sat in a nondescript room in the courthouse where he would later be sentenced to life in prison.
When she entered the room, Alexanda Kotey was already there, seated amid a flurry of activity and noise from FBI agents and defence lawyers and minders.
But when she sat down, "it felt like it was just me and him. We looked at each other and said 'hello'".
Thoughtful and measured, the weight of emotions from her experience lent a weariness to her voice as she recounted the moment and all that it encapsulated.
"It was not an easy thing to do, but it was important," she said. "Jim would've wanted me to do this."
"Jim" was her son, the American journalist James Foley.
His murder in 2014 at the hands of a terror cell known as the 'Isis Beatles' reverberated around the world, announcing the barbarity of the group known as Islamic State.
The group terrorised large swathes of Iraq and Syria, forcing millions to live under its brutal rule. At the height of its dominance between 2014-2017 it became the most feared terror group in the world.
James' death, broadcast on Twitter on 19 August, 2014, has become one of the most enduring and recognisable images in modern times: A young man kneeling in an orange jumpsuit in the desert. A man in a full black mask standing menacingly beside him holding a knife. A beheading carried out on camera.
The video was titled "Message to America."
Seven years on, two ex-Britons - Elshafee El Sheikh, 33, and Kotey, 38 - have been convicted in a US court for their involvement in his murder as part of the Isis terror cell.
El Sheikh was sentenced in Virginia on Friday. In April, Kotey was jailed for life, and Diane met him.
The four hours she spent with him were, for her, an affirmation of faith, forgiveness and a commitment to what has now become her life's work after the trauma of her son's death - freeing hostages around the world.
It is not a life Diane, now 72, envisioned for herself.
Before James went missing in Syria in 2012, she had been working as a nurse, but in the weeks after his disappearance, she quit her job.
It was not the first time he had been kidnapped while reporting.
In March 2011 James and other colleagues were kidnapped in Libya by Colonel Muammar Gadaffi's regime, but would be released 44 days later. This time, it would end differently.
James left for Syria in October 2012 to report on the growing conflict. Aware of the potential dangers, he kept in regular touch with his family.
But by November, Thanksgiving had passed and Diane hadn't heard from her son. It wasn't until later that month that an email appeared in her inbox. It was from James' captors.
The terror group said that if the family wanted James back, they had to get the US government to release prominent Muslim prisoners or deliver 100 million Euros.
Similar demands were also made to the families of other American hostages the terror cell would kidnap - human rights activists Kayla Mueller and Peter Kassig, and journalist Steven Sotloff.
Weeks and months followed but the family were still hopeful James would "come home by Christmas", Diane said.
The Foleys were told by the US government not to negotiate. According to Diane, they were even threatened with prosecution if they attempted to raise the ransom themselves, though the US State department denied this.
Months went by before the Foleys received another message threatening them with James's death in the wake of US airstrikes. "He will be executed as a direct result of your country's transgressions towards us," it said.
She would learn of James's murder from a journalist.
"I thought it was some cruel joke," she recalled.
In the weeks after James' killing, the terror cell would go on to torture, beat, starve and murder Peter and Steven. Kayla died in 2015 - her murder was never filmed.
That year, a US drone strike killed Mohammed Emwazi, the militant seen as the group's ringleader. But it took until 2018 for the two others, Elsheikh and Kotey, to be captured by an American backed Kurdish militia in Syria, and later taken into US custody.
Families of those kidnapped pushed for the pair to be extradited to the US and tried in a federal court instead of being sent to the military prison at Guantanamo Bay.
"It was very important to us that these men were tried in America and for them to have a fair trial," Diane said.
The road to justice has been fraught and difficult, she said. "It's [taken] nearly 10 years to get to this moment."
"I wish our countries had worked together and brought our sons and daughters home instead of having to spend so much time on bringing accountability after their murders... [but] it's better than nothing," she said.
Kotey's case, unlike El Sheikh's, did not go to trial. Instead, he pleaded guilty to eight charges relating to the abduction, torture and beheading of IS hostages in Syria, and agreed to meet the victims' families as part of the deal.
In that small room as she stared at him, she felt more "even", with the man convicted of helping to kill her son, Diane said.
"He was still rather frightening to me, but of course, since I knew I was safe, and he could harm me no longer, I had some power," she said.
"He'd already done the worst and taken away my loved one."
It was during their four hours together, she said, that she came to pity the terrorist who now faces spending his life in jail.
"I wanted Kotey to be confronted with the horror of what he did," she said, telling him about the man he murdered, the eldest of her five children.
"For him to understand the goodness he destroyed and why people like James were in Syria. It's because they cared and wanted to report the truth to the world.
Kotey listened quietly and then also talked about his own family.
"He said had been praying to his God for forgiveness. He shared a picture of his family, he has some young children whom he will probably never see again. It made me realise how much he's lost by following hatred and propaganda. It made me pity him."
But he never told Diane where the bodies of the hostages he and his conspirators murdered are buried.
Even today, they have never been found.
"And he never said sorry. He was sombre and respectful towards me and talked about remorse", but never apologised, she said.
When she turned to leave for the last time, she made a parting comment.
"I said to him that I hope at some point we could both forgive one another," she recalled.
She remembers he looked at her confused and said: "I don't have to forgive you for anything."
Her plea, she explained, is grounded in her Catholic faith - the foundation of her strength and what has kept her going.
"I know he doesn't have to forgive me anything, but in that moment…I don't know."
She paused, searching for the words.
"I just feel like, as people, none of us are perfect. We all do things we regret."
"If I hate them, they have won. They will continue to hold me captive because I am not willing to be different to the way they were to my loved one. We have to pray for the courage to be the opposite."
"It's a hard journey to forgiveness, and it's not a done deal but it's what I aspire to."
In the three weeks after James' murder, Diane set up something which, she says now gives her life purpose: The James W Foley Legacy Foundation. It advocates for the government to do more to help Americans held hostage abroad.
Her work has made her a political force - other hostage families have described Diane as "unstoppable".
"Governments should have the backs of our citizens when they travel internationally," she said.
"They need to be shrewd and have many tools to use: sanctions, humanitarian aid, vaccines or visas, anything to open up humanitarian channels so that we can stop the horror of international hostage taking."
But for all that, the suffering has not stopped for her or her family, she admitted.
"It's been very hard on Jim's brothers and sister, and my husband. We will probably forever pay the toll for all that we went through. All of us families have a lot of post-traumatic stress."
Other victims' family members have said they will not take Diane's approach.
"I will never forgive them and I have made my peace with that," Bethany Haines, the daughter of David, told BBC in April as El Sheikh was tried in court.
As part of the condition of their extraditions from British authority, neither Kotey nor Elsheikh will face the death penalty.
"I'm glad about that," Diane said. "They have the rest of their lives to think about what they've done.
"They've lost their freedom, their citizenship, their families. Their hatred did not win."
Additional reporting by Alison Hunter