US election results: When will we know who won?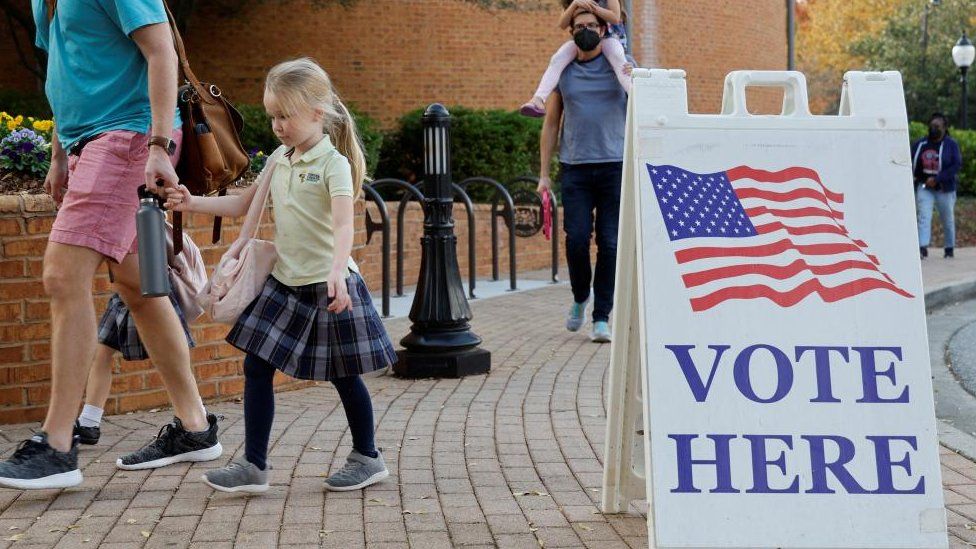 Days after US voters cast their ballots, the final results of the 2022 mid-terms remain unclear - with officials across the country warning that the outcome may still not be known for weeks.
The delays are the result of a number of factors, including razor-thin margins between candidates and the fact that Georgia - a key Senate battleground - is headed to a run-off election.
Other delays are due to the decentralised way in which elections are set up in the US, in which states have varied rules for how mail-in ballots are counted, and when.
The issue of delays has been a politically contentious one since the 2020 presidential election, when then-President Donald Trump attempted to claim victory the following morning while votes were still being tallied, declaring continued voting counting a "fraud" and an "embarrassment".
This week, Mr Trump has again cast doubt on the process, taking to his Truth Social social media platform to call several state elections "voter integrity disaster" and accusing his political opponents of "trying to steal the election with bad machines and delay".
Ahead of the midterms, however, electoral officials across the country warned the public that delays are a normal, expected part of US elections.
In a speech on 2 November, US President Joe Biden also weighed-in, warning that "it's important for citizens to be patient" while ballots are counted "in a legal and orderly manner".
Let's take a look at why certified results are trickling in slowly.
Although the final numbers are not yet in, preliminary data from the US Elections Project suggests that more than 112.34 million Americans - about 47% of eligible voters - participated in this year's midterm. While the overall figure is less than the number of voters who participated in the 2018 midterm, turn-out in some states appears to have been at historic highs.
The election also saw 42 million people cast their ballots - in early voting and by mail - ahead of 8 November, surpassing 2018's total of 39.1 million. This is among the key factors that lead to final vote tabulations being delayed.
Different states have varied regulations for how mail-in ballots are processed.
Pennsylvania, for example, is one of eight states that only allowed election officials to begin processing ballots on election day. In Maryland, on the other hand, state regulations stipulate that the processing of ballots cannot begin until 10:00 local time on the morning after the election.
Similarly, 16 states and Washington DC do not allow counting to begin until the polls close on election day, while 23 states allow counting to begin earlier on the same day. Only 10 states allow ballots to be processed and counted ahead of time before 8 November.
Nineteen states also have a grace period that allows ballots to be counted afterwards, provided that they were sent through the mail by election day. In California, for example, ballots can still be received for another full week. In Arizona, on the other hand, ballots must be in by election day, although officials have 20 days to come to a final count.
Delays could also be caused by recounts, which can take place in races with extremely narrow margins of victory, or, in many states, when requested by one of the participating candidates. While the process varies slightly by state, 41 states and Washington DC allow for recounts to be requested. Twenty-two states have provision for automatic recounts.
In Georgia - where there is a tight race between Democratic Senator Raphael Warnock and Republican Herschel Walker - winning candidates must receive at least 50% of the vote.
With a third-party candidate on the ballot in this week's midterm, neither candidate was able to reach that threshold, triggering a run-off election on 6 December. This scenario is a replay of the 2020 election in the state.
"At the end of the day, everyone wants to know that we have honest and fair elections and we do," Secretary of State Brad Raffensperger said on 9 November. "I would ask the voters to come out and vote one last time."
Where are delays taking place?
While final count tabulations are still taking place across the country, delays have been most evident in Arizona - where a large majority of people opt to vote by mail. Ahead of the midterms, officials there warned that the process could take up to 12 days. Voters in the state also have five days to correct their signature if requested by officials.
"As much as we all want to see the winner on election night in those close races, that's just not going to happen," Secretary of State Katie Hobbs, who is also running for governor, said in October. "These things take time."
As of Wednesday, 9 November, hundreds of thousands of ballots remained uncounted, including about 400,000 in Maricopa Country and approximately 159,000 in Pima County, where officials said a final count is not expected before 14 or 15 November.
After election day issues with ballot printers were reported, Maricopa County has vowed that ballots "will be counted securely and accurately". While the issues were "frustrating" and "inconvenient", officials said the final count would not be affected.
Trump-backed gubernatorial candidate Kari Lake has repeatedly cast doubt on the system. On an election night speech at her campaign headquarters, she hinted that "incompetency" was preventing "honest elections".
"The system we have right now does not work," she added.
Votes are also still being counted in Nevada, with tens of thousands of ballots remaining in Las Vegas' Clark County. Representatives of both political parties there have urged voters to be patient.
Do election delays take place in other countries?
While election result delays do take place in other countries, the US stands out in terms of the length of the delays - largely owing to its decentralised system.
The results of Israel's 1 November election, for example, were announced on 3 November. The second-round of Brazil's general elections on 30 October were known on the same day.
Of European countries, Sweden is considered one in which high voter turnout and close margins often drag results out over a period of several days. The preliminary results of the country's 11 September general election were not available until 15 September, with official results following about a week later.
In 2019, it took over a month for the results of Indonesia's 17 April presidential election to be announced on 21 May - which was actually ahead of schedule. Vote counting at the country's more than 800,000 voting stations is largely conducted by hand in view of the public.