US midterms: Republican 'red wave' looking more like a ripple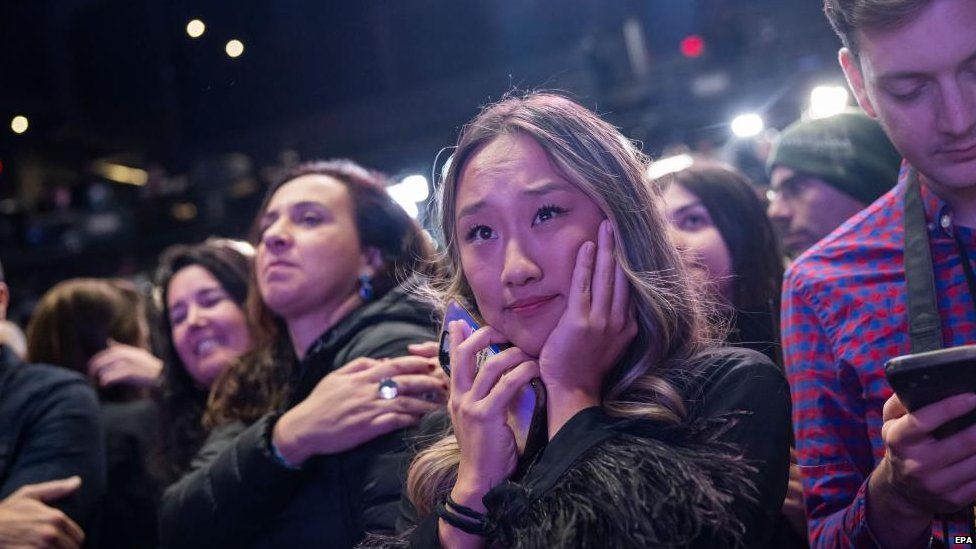 Democrats may lose control of the House of Representatives and could yet lose the Senate as well, but still they will be breathing a huge sigh of relief.
They ran campaigns that focused on abortion rights and warnings that American democracy was in peril, while Republicans blamed President Joe Biden's administration for the rising cost of living.
Exit polls suggest that the economy and inflation were the biggest concerns for voters, which should have benefited Republicans.
The party in power in Washington usually loses seats in the midterm elections and President Biden appears set to lose fewer seats than either Barack Obama or Donald Trump did at this stage in their presidencies.
The "red wave" that Republicans had predicted looks like more of a ripple.
The mood inside the White House, where President Biden has been making congratulatory calls to victorious Democrats, is a mix of "excitement" and "validation" as returns show there is no "red wave", according to the BBC's broadcast partner CBS.
However, a Republican majority in either of the houses of Congress would mean that they could block almost every piece of legislation President Biden proposes.
The biggest winner of the night so far is Republican Ron DeSantis, re-elected as governor of Florida with a much increased majority.
It is well known that he has ambitions to run for president. So his victory is being closely watched by one of his constituents at the Mar-a-Lago resort - Donald Trump.
Mr Trump has already nicknamed him "Ron DeSanctimonius" and on Tuesday night appeared to threaten that if Mr DeSantis dared to run against him for the Republican nomination in 2024, he would reveal damaging information about him.
We have yet to see whether some of the more controversial candidates endorsed by Mr Trump can win.
In a TV interview with NewsNation, he said: "Well, I think if they win, I should get all the credit, And if they lose, I should not be blamed at all."
That will be a test of Mr Trump's electoral appeal as he appears poised to announce next week that he is running for president again.
These are the first elections since the 6 January 2021 riots, in a country where many people still believe that the 2020 presidential election was stolen.
So this election is also a test of whether America can conduct a nationwide election that voters have faith in.
A problem with voting machines in Arizona quickly became the source of new conspiracy theories about electoral fraud - despite election officials saying the problem had been fixed when engineers changed the printer settings (I'm not kidding).
Dozens of Republican candidates who have cast doubt on the results of the 2020 election have been elected to state and nationwide offices.
Five states - Michigan, Kentucky, Vermont, Montana and California - had special propositions on the ballot, effectively state-wide referendums, on abortion rights.
It appears so far that all those states have voted to protect the right to have an abortion. That might suggest the abortion issue did play a part in holding back the Republican tide.