Mystery toxic substance sickens Illinois prison staff and inmates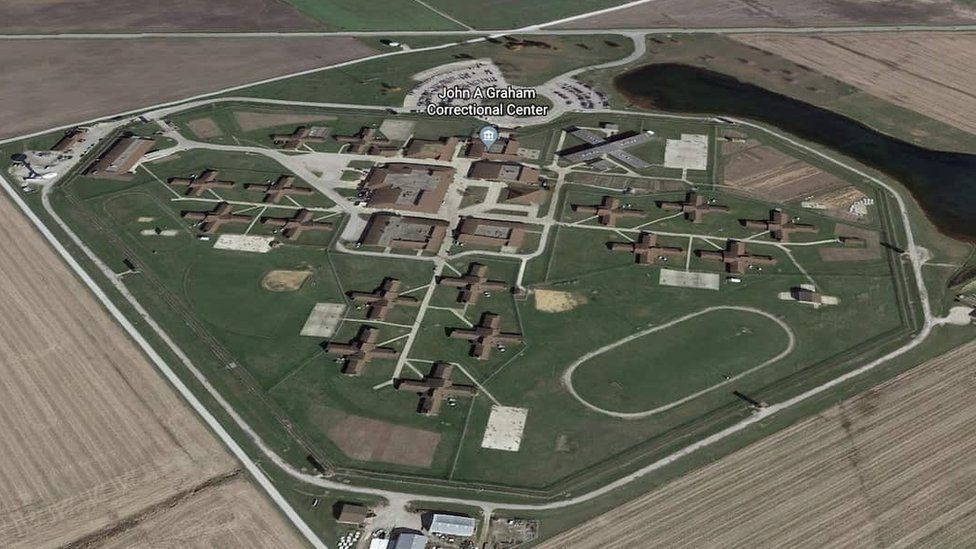 Several staff members at a prison in Illinois were sent to hospital this week after falling ill from an "unknown substance", the state Department of Corrections said.
Multiple prison inmates also required medical treatment.
The employees fell ill after responding to a medical incident with an inmate, according to the department.
The inmate "appeared to be under the influence of an unknown substance", a corrections spokesperson said.
The hazardous materials team with the Illinois State Police is currently investigating the incident at the John A Graham Correctional Center, a medium security adult male state prison in Hillsboro, around 50 miles (80km) from Springfield.
In total, 22 staff members were sent to hospital after employees responded to an inmate in severe distress on Wednesday afternoon, said Anders Lindall, director of public affairs for the American Federation of State, County and Municipal Employees Council 31.
The union represents prison employees.
Those who went to aid the inmate started to feel nauseated, lightheaded and dizzy very quickly, while some even vomited after exposure to "some sort of toxic substance", Mr Lindall told the BBC.
Officials do not know which substance caused the illnesses or how it arrived in the prison, he added.
All staff are stable and many have gone home, while some are being held for further testing to investigate the cause of the distress.
There was a union meeting at the time of the incident, which was halted so employees could assist prison staff who were affected, Mr Lindall said.
This is not the first time prison staff have fallen ill from harmful substances, he said.
He said prison employees have in the past been exposed to fentanyl when opening mail and have had to be treated with Naloxone, drug that can temporarily reverse overdose effects.
These types of incidents where contraband and toxic substances are smuggled into prisons through mail and by visitors are "on the rise", he said, adding the union had concerns about staffing shortages at Illinois facilities.