Nashville school shooting leaves vigil mourners in shock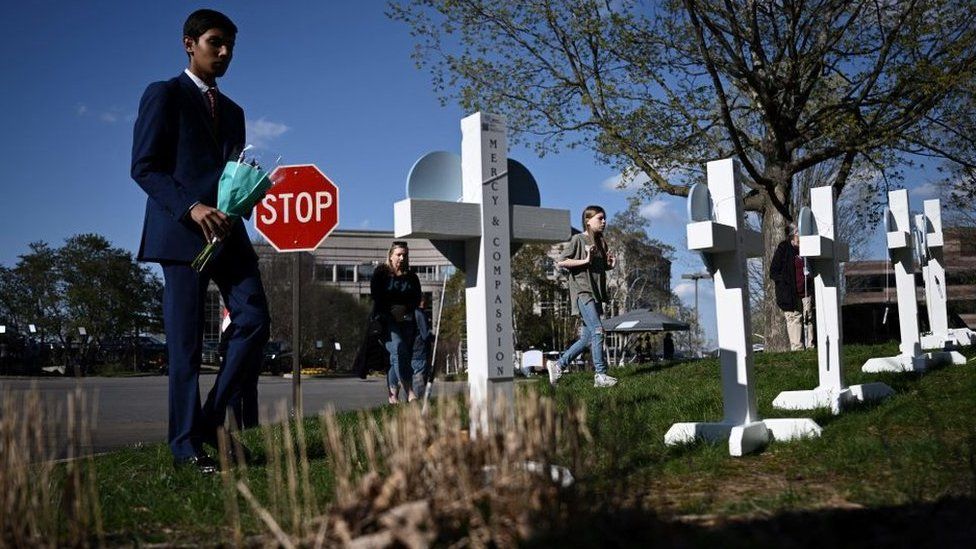 As Nashville residents hold vigils for the victims of Monday's mass shooting at a school, this corner of a city known for its music and live entertainment has fallen into a grief-stricken hush.
The sorrow and confusion was evident everywhere on Tuesday, but perhaps it stung the most in the Green Hills community, where the Covenant School sits on the top of a quiet hill, surrounded by trees - a picturesque escape from an otherwise blaring city.
Locals kept arriving throughout the day to leave flowers, notes and cuddly toys for the youngest of the victims at a makeshift memorial outside the privately run Christian school.
And at a church down the road, others gathered for a religious service of prayer.
"Nashville is a wonderful place to be and I feel like that bubble has burst now," said resident Laura Morris, who attended the service. "I don't want people to see us in that light."
Ms Morris, who has lived in the city for two decades, said she cherished the sense of community - never expecting a "senseless tragedy" like this could happen here.
On Monday, Nashville crossed into unfamiliar terrain, yet another map pin in a grim, yet growing, list of gun massacres across the US.
The victims: a dedicated headteacher, a loving father who worked there as a custodian, a substitute teacher and three nine-year-old students.
Police have not yet disclosed a possible motive.
In a recorded address, Governor Bill Lee said his wife, Maria, had planned to have a friend over for dinner on Monday night. But Cynthia Peak, one of the shooting victims, never made it.
"All of Tennessee was hurt yesterday, but some parents woke up without children, children woke up without parents and without teachers, and spouses woke up without their loved ones," Governor Lee said.
"Maria woke up this morning without one of her best friends."
Music City, which has a small-town feel, has faced tragedy before, but nothing like this.
In 2020 alone, the city weathered a tornado's devastation, the fallout of the coronavirus pandemic on the tourism industry and even a Christmas Day car bomb that claimed the life of the recluse who built the device.
Religion often intersects with politics here, but not on Tuesday.
Of the locals we spoke to, most preferred to leave politics or the gun debate out of the conversation and to spotlight the victims instead.
Others, like Laine Arnold, chose to focus on the police response.
Officers were able to put an end to the shooting within four minutes of arriving at the Covenant School.
"They're heroes," she said.
At an afternoon vigil held at a garden at Davidson Academy, another Christian school across town, Jaime Sanderson, a second-grade teacher there, walked up to address a crowd of about 80.
She looked out at the faces of all ages. Some children clung on to their parents as they sat on the grass, their foreheads showing confusion and fear.
"Even if we had no personal connection to the victims, they represent people we love dearly and live life with - children, teachers, administrators," said Ms Sanderson, who has four children at Davidson.
"It's no longer happening across the country. It's right here, and it's hard."