Why Ryan Reynolds wanted to buy this ice hockey team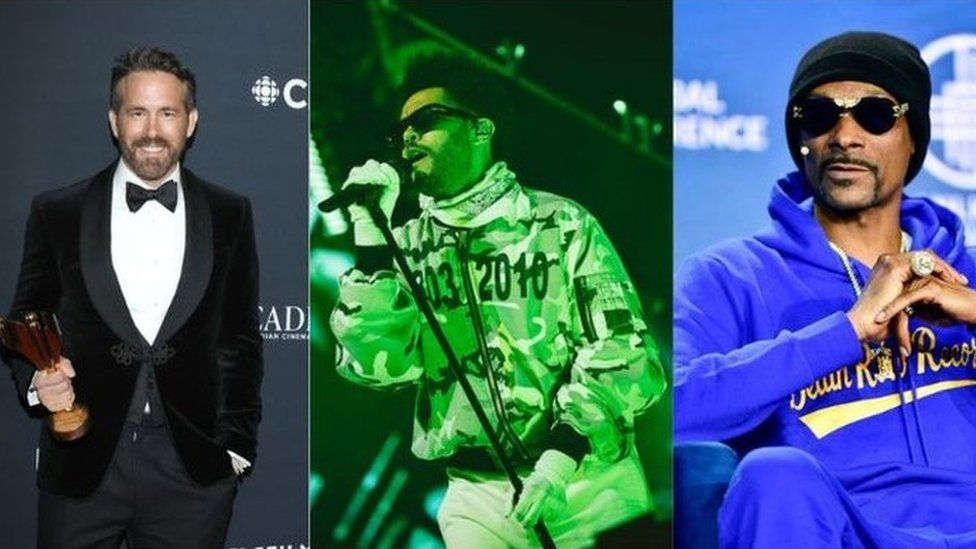 Ryan Reynolds, Snoop Dogg and The Weeknd: What do all these big celebrity names have in common?
All three were at one point vying to be the next owner of the Ottawa Senators, a National Hockey League (NHL) ice hockey team based out of Canada's capital city.
For locals, the high-profile interest has been both exciting and confusing, as Ottawa is a city that is known more for its quiet suburbs and government bureaucracy than its star power or athletic prowess. And their ice hockey team, established in 1992, has never won a coveted Stanley Cup.
But the sale of the Senators has shaped up to be a bidding war among celebrities.
Reynolds, a Canadian actor with multiple business ventures under his belt, including the ownership of Wales' Wrexham FC, was reportedly preparing a bid of more than $1bn for the Senators in a partnership with an Ontario-based real estate development company.
The bid, however, was dropped at the last minute, according to ESPN, after the NHL denied a request for a 30-day extension to secure a deal for a new arena in Ottawa.
Even with Reynolds out, the future owner of the Ottawa Senators could still be a well-known name. American rapper Snoop Dogg has also expressed interest in buying the team, joining a bid led by Los Angeles-based businessman Neko Sparks.
"This ain't no joke or no gimmick. Or an image or likeness play. This is a real ownership play," Snoop told the sports news outlet. "And Snoop will put his foot in the town."
And at the 11th hour, reports emerged that Canadian singer and songwriter the Weeknd joined a group of Toronto billionaires who also have their eyes set on the Ottawa team.
The bidding war for the NHL team has heated up as a rumoured deadline of 15 May approaches. There were reportedly seven groups in total bidding on the team at one point, which is valued at $900m by Forbes.
Adding celebrity power to a bid has its benefits, according to NHL's commissioner Gary Bettman, who said during a recent interview that a recognisable owner "can be a plus for the franchise going forward".
As for why a score of celebrities are suddenly vying for the ice hockey franchise, experts say it is part of a larger cultural trend in which high-profile figures are investing in ventures outside of arts and music, using their personal brand to help boost their corporate portfolio.
Take Rihanna for example. In recent years, the Barbadian singer has seldom released new music, focusing instead on her highly successful clothing and beauty companies.
Aron Darmody, an associate professor of marketing at Carleton University in Ottawa, said that these high-profile bids on the Ottawa Senators are no different.
"It's not about Ottawa per se, it really is just the fact that you have this sports franchise in one of the four major leagues in North America, and these franchises don't always come up every day of the week," Mr Darmody said.
"The very fact that one is available, clearly there is going to be interest," he said, adding that ownership of a North American sports team is akin to owning "premium property".
It is also a lucrative business venture, Mr Darmody said, with a high return on investment. Take the case of superstar athlete Michael Jordan, who bought the Charlotte Hornets, a National Basketball Association (NBA) team, in 2010 for $180m.
In 2022, Jordan is slated to make more than one billion dollars in profit on his purchase, as his team is now valued at $1.7bn.
In the case of Reynolds, celebrity power has also proven to be a powerful force in galvanizing a community and inspiring a team.
Wrexham FC has seen great success since Reynolds and his partner, actor Rob McElhenney, took over in 2021. Its fan base grew exponentially thanks to an 18-episode documentary show about the team that raised its profile beyond the UK, and the team has recently earned a promotion from the National League to the English Football League.
"He's helped to develop that brand, he's helped globalise that brand," Mr Darmody said, achieving a level of notoriety that was previously "unheard of" for a team like Wrexham.
Securing ownership is only the first challenge, Mr Darmody said, as the successful bidder will ultimately be beholden to the fans.
"My role in Ottawa would be a community activist. Finding new ways to be better," Snoop told the Athletic, adding that his immediate goal is to have the team make the Stanley Cup playoffs, a feat they have not achieved since 2017.