Aderrien Murry: Mississippi boy, 11, shot by officer after calling police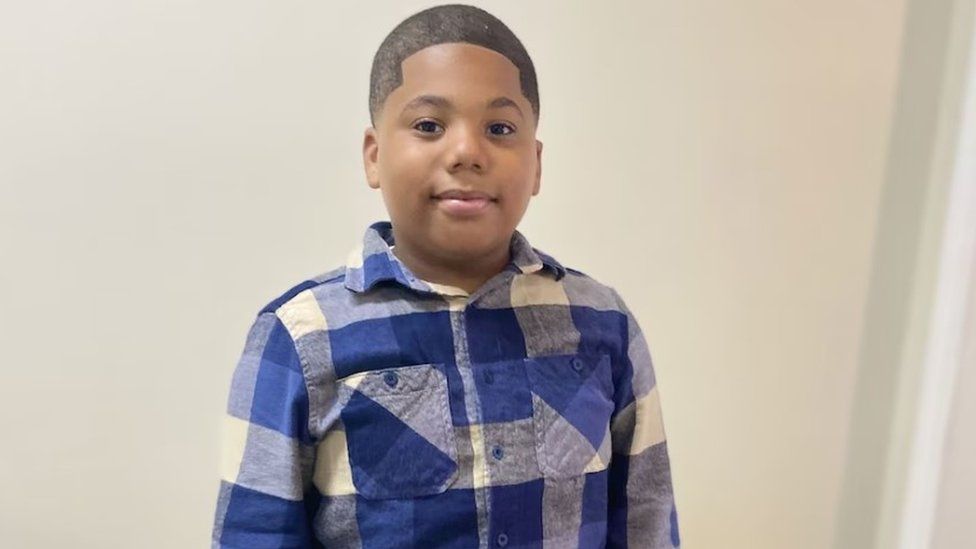 An 11-year-old boy who was shot by an officer after calling police for help has been released from hospital, his family says.
Mississippi police arrived at Aderrien Murry's home on Saturday responding to a domestic disturbance call placed by the boy, then shot him in the chest, according to his mother.
She said the boy asked her "what did I do?" after being shot.
The officer involved has been placed on leave as the shooting is investigated.
The Mississippi Bureau of Investigation is conducting a probe into the incident.
The boy is recovering at home after being released from a local hospital, where he was treated for a collapsed lung, fractured ribs and a lacerated liver.
His mother, Nakala Murry, has asked for the officer to be fired and charged.
At a press conference on Monday outside Indianola City Hall, she said the father of another of her children had shown up at their house early on Saturday morning and was acting "irate", prompting her to instruct her son to call the police.
When the Indianola officer arrived, Ms Murry later told CNN, he "had his gun drawn at the front door" and asked everyone inside to exit.
As her son turned the corner of the hallway, the officer opened fire, striking Aderrien in the chest, she said.
"His words were: 'Why did he shoot me? What did I do?' and he started crying," Ms Murry said. "This cannot keep happening. This is not OK."
She said she had covered her son's wound with her hand and applied pressure, blood pooling beneath her palm. The officer also assisted her in rendering aid, she said, until medics arrived.
Aderrien was rushed to the University of Mississippi Medical Centre, where he was given a chest tube and placed on a ventilator.
Ms Murry and her family's lawyer, Carlos Moore, have called on officials to take further action. Mr Moore said the officer has been placed on paid administrative leave.
"What are you waiting on? Someone to actually die?" Mr Moore said during the Monday press conference.
According to him, the officer allegedly involved had been named the department's "best officer".
"If he's your best, Indianola, you need a clean house from top to bottom," he said.
At a sit-in protest outside City Hall on Thursday, Ms Murry, Mr Moore and about a dozen protesters said they were "demanding justice".
At a rally planned for Saturday, the group will demand the firing of the officer and the release of body-camera footage from the incident.
Police have so far denied the footage request due to the ongoing investigation, according to Mr Moore.
The Indianola Police Department told BBC News it is not currently commenting on the case.
Over the weekend, the Mississippi Bureau of Investigation said it is "currently assessing this critical incident and gathering evidence", and will submit its findings to the state attorney general's office.