Ron DeSantis raised more money than Donald Trump last quarter, but it's not all good news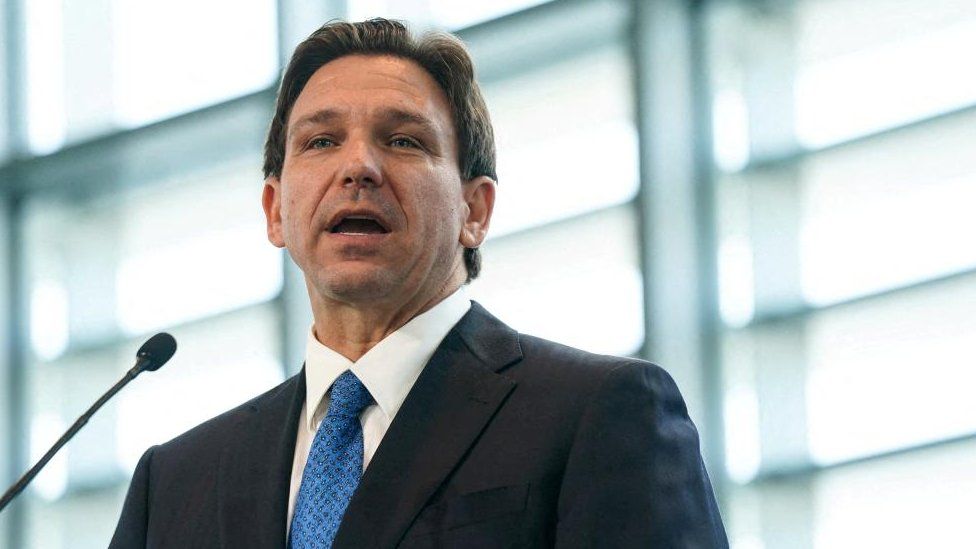 Florida governor Ron DeSantis, who launched his bid for the Republican nomination in May, had some good news at the weekend.
Figures released by his campaign show he raised more campaign cash than his main rival, Donald Trump, in the last quarter. For the period from April to June, he pocketed $20m (£15.3m), against Mr Trump's $17.7m.
"Fundraising numbers are like the canary in the coal mine," says Michael Toner, a Republican campaign finance expert since the 1990s and former chair of the Federal Election Commission.
"It's one of your first indications of whether a candidate is connecting with people in the party's base, whether they're generating enthusiasm and whether their message is resonating."
But behind Mr DeSantis's healthy top-line numbers is a more complicated, and potentially concerning, story for the Florida governor - one that suggests his presidential campaign, already trailing Mr Trump by double digits in public opinion polls, may not be on sturdy financial footing, either.
The first thing to note is that Mr Trump's numbers are not exactly what they appear. Earlier this month, his campaign said it had raised $35m, more than twice the amount it disclosed on Saturday and well ahead of Mr DeSantis's receipts.
What's going on? The reason for the discrepancy is that Mr Trump has been directing most of this money to a fundraising committee that won't report its financial numbers until the end of July.
That committee then passes some of the cash on to the campaign and gives the rest to yet another committee. It's a murky process, but it allows the campaign to raise funds for a variety of purposes including, some have noted, to help pay for Mr Trump's ever-growing legal fees.
A more meaningful measurement of who is ahead in the money stakes could be cash in the bank - and in this category, Mr Trump is comfortably ahead, with $22.52m compared with $12.24m for Mr DeSantis.
"Cash on hand gives a campaign the resources going forward," says Candice Nelson, a government professor at American University and academic director of the school's Campaign Management Institute.
"If you need to hire more staff, you have the money there to do it. If you want to put together an early field campaign or do direct mail fundraising, there's just the cash to draw from."
The amount of cash on hand is particularly important for Mr DeSantis, given that his campaign has been spending at a fairly rapid clip.
In the six weeks that the DeSantis team has been up and running, it spent $7.87m - 39% of the amount it raised. That includes more than a million dollars in payroll for 92 staffers.
This is a high "burn rate" for a campaign, which will need to save money for later, more expensive phases in the campaign. According to Mr Toner it can be a clear warning sign that its fundraising expectations are too high and a financial crunch is on the horizon.
Mr Trump's team spent more than Mr DeSantis's - $9.31m - but it is raising more money, has more in the bank and is leaner with only 40 employees, so its burn rate is less of a concern at the moment.
There are some signs that the DeSantis camp is aware they could be heading for dangerous ground.
News reports suggest the DeSantis campaign is laying off some of its staff - as many as a dozen - and focusing its spending on early-voting states in the Republican nomination process, including Iowa.
Some of these staffers may move over to the "independent" committee that is supporting Mr DeSantis - a group that, thanks to a transfer of $80m raised from Mr DeSantis's 2022 governor re-election campaign has more than $100m at its disposal.
But that committee can't co-ordinate directly with the DeSantis team, which brings the risk that it could spend money in ways that aren't helpful to the campaign.
"There's no substitute for campaign dollars that the candidate controls," Mr Toner says. "Campaigns that don't raise money into their primary campaign accounts don't tend to last a long time."
That's not the only warning sign for Mr DeSantis. Of his total fundraising haul, a sizeable $3m is in a fund that can only be used if Mr DeSantis wins the Republican nomination and runs in the general election.
And Mr DeSantis is going to have to go looking for new donors if he wants to keep the cash spigots open. Two-thirds of his current donors have already given $3,300 to his primary campaign - the maximum amount allowable by law.
"There's nothing wrong with having maxed-out donors - every dollar counts," says Mr Toner. "But small donors historically have been the best yardstick for measuring a connection to grass-roots voters. And in that arena, Mr DeSantis is not at the top of the list right now. Trump is and has been for years."
While Mr DeSantis's other rivals as the non-Trump candidate trail well behind him in fundraising, they are also running much more modest campaigns, at least by modern standards.
Former South Carolina Governor Nikki Haley raised $5.34m and spent $2.6m . South Carolina Senator Tim Scott spent $6.74m - more than he raised - but he also has $21.1m in the bank thanks to a transfer of funds from his Senate campaign war chest.
Some candidates are running bare-bones operations out of necessity. Former New Jersey Governor Chris Christie raised $1.66m but only spent $66,212. Mike Pence, despite being a former vice-president with national name recognition, only raised $1.17m and spent just $74,343.
"There's the old saying that presidential campaigns don't end, they just run out of money," says Eric Wilson, a campaign fundraising consultant who worked on Florida Senator Marco Rubio's 2016 presidential race.
But the latest financial figures are just a snapshot in time, he adds. Circumstances can quickly change in a fiercely fought election.