BBC News Africa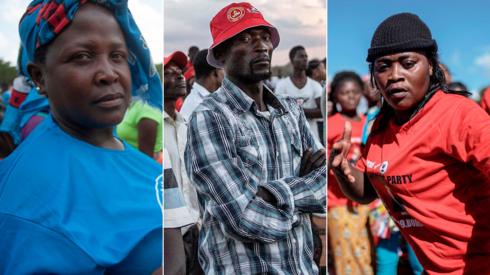 Top Stories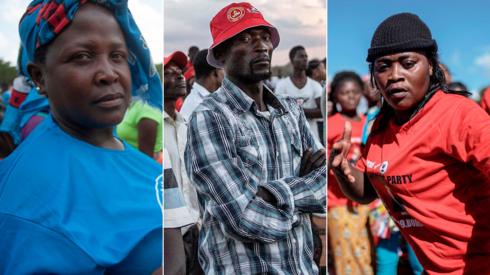 Featured Contents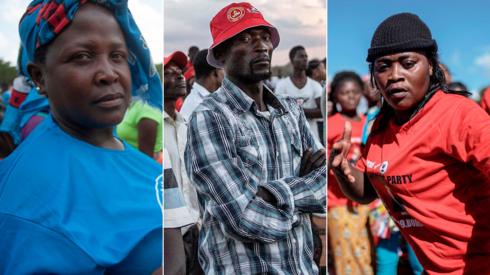 Latest Updates
Seven million Malawians are voting for a new president in one of the country's most unpredictable polls.
Read more
Two prostitutes who work on the streets of Freetown tell their stories.
Abiy hosts 'the most expensive dinner' in Ethiopia
Ethiopian Prime Minister Abiy Ahmed hosted 200 business people and representatives from several organisations for a Sunday dinner dubbed "the most expensive in the country".
Guests had to pay $173,000 (£136,000) to dine at the palace of a former emperor of the country, Menelik.
The event was held to help reach a $1.1bn fundraising target to pay for the regeneration of an area in the capital, Addis Ababa.
Beautifying Sheger Project, as it is called, involves cleaning the rivers and building recreational parks in the capital.
State linked-Fana news site, tweeted pictures of the table setup , alongside models showing what the project would look like when complete.
Since coming to office Mr Abiy has been praised for his reformist agenda, which included normalising ties with bitter foe, Eritrea.
His critics, however, say that he has failed to deal with ethnic conflicts within the country which have displaced more than 2 million people.
Malawi's 'solar mamas' power their community
A group of eight women in rural Malawi have transformed their community's life with their solar engineering skills.
They live in the central district of Lilongwe, where there is no electricity. None of the women finished school and illiteracy has held many of them back.
The women took part in a six month intensive training course at the Barefoot College in India's Rajasthan state, with the help of the UK based charity, Voluntary Service Overseas.
They are now using their skills to light the way for their villages.
''It's really amazing that with a screwdriver, I can assemble a lantern that light up my home and the community,'' Dines Msampha, one of the Solar Mamas told BBC Newsday radio programme.
Elinati Patison, a mother of six who runs a tailor shop in Chatsala region, said what she had learned in India changed her life.
''Before, I never thought that someone uneducated like me could go to India. A lot of people in my own community were surprised that a woman can assemble solar devices. In the past, they never thought that a woman could do such a thing".
''I now can work at night because I have solar electricity at home. My income improved and I can afford school fees for my children".
The Solar Mamas lit up classrooms for children, setting up phone charging stations for villagers. Farmers can also use solar lighting for agriculture works in the evening.
"In the past, we lived in the dark, but now my community has solar electricity which is a big improvement. Before we used to buy candles for lighting and it was expensive. Now I can even go to the toilet at night because the solar light covers the entire house and garden," Edina Livitiko,who was also trained in India, told Newsday.
''I go around peoples' houses to repair their solar devices. My children are happy to see their mum being able to light up peoples' homes. We are very happy,'' Edina said.
Listen to the interview below:
Ahmed Abiy's event at the Menelik palace was to raise funds for infrastructure in Addis Ababa.
Read more
Kabila ally named DR Congo PM

Will Ross
Africa editor, BBC World Service
Democratic Republic of Congo President Felix Tshisekedi has named a prime minister - nearly four months after his own inauguration.
The veteran politician and current director general of the national railway company, Sylvestre Ilunga Ilukamba, was nominated by former President Joseph Kabila, who has retained significant power after his coalition won the vast majority of the parliamentary seats.
President Tshisekedi and Mr Kabila agreed to work together following a controversial election which many observers believe was won by another opposition candidate, Martin Fayulu.
Earlier on Monday thousands of people welcomed home the opposition politician, Moise Katumbi, who had been in exile for three years.
Diners at Ethiopia's 'most expensive dinner' review event
Kalkidan Yibeltal
BBC Amharic, Addis Ababa
We reported earlier about a dinner described as "Ethiopia's most expensive" which was hosted on Sunday evening by Ethiopian Prime Minister Abiy Ahmed.
Guests parted with $173,000 (£136,000) each for the fundraising event held at the palace of a former emperor of the country, Menelik.
The money is to be used in a regeneration project of the capital, Addis Ababa.
I spoke to two business people - Ali Hussen and Solome Taddese - who were among 200 guests at the event.
Ali Hussein:
I arrived there at 3pm and we visited the really nice palace. It's historical, more than 100 years old. After the reception we had dinner... There was not enough time for me. We stayed there for six or seven hours. I had a good time.
We had raw meat you know. There was Tej (honey wine) and coffee."
Solome Taddese:
We first met Prime Minister Abiy at the cocktail before the dinner. There was a tour of the palace as soon as we arrived. We met him after finishing the tour.
He didn't sit in a special place, he sat with us as we ate and drank. It was a special, unique feeling.
I would participate in such a dinner again. I'd be very happy. First, it has a noble objective. We were satisfied by a lot of things more than the dinner. I came out with hope".
Kenya warns foreigners running illegal betting firms

Ferdinand Omondi
BBC Africa, Nairobi
The Kenyan government has threatened to deport foreigners found to be running illegal betting businesses.
Interior Minister Fred Matiangi said on Monday that some foreigners had applied for different business permits, only to change course when they got their licences.
He instructed the immigration department to review foreign work permits, and said anyone found to have flouted the rules would be deported.
Mr Matiangí also said betting companies owed the government some $260m (£204m) in taxes.
Meanwhile, a court in the capital, Nairobi, has temporarily lifted state orders which banned celebrities from endorsing gambling businesses as well as all outdoor advertising.
An artist filed for the injunction, arguing the order deprived him of a source of income.
The court also suspended the government's orders banning betting adverts pending the outcome of a case challenging the directive.
The Kenyan government is increasingly worried about gambling addiction in Kenya.
There are widespread concerns that the multi million-dollar industry has left many gambling youths hooked, broke and even suicidal.
A 2017 poll found that Kenya has the highest number of gamblers in Africa aged below 35.
More than 500,000 Kenyans have been blacklisted by creditors, and the state believes many defaulters borrowed the money for gambling.
Force Ngwira is fighting the use of mosquito nets for fishing, which depletes stocks in Lake Malawi.