BBC News Africa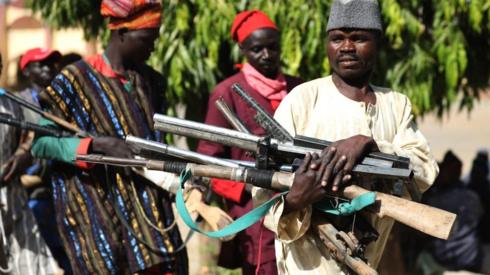 Top Stories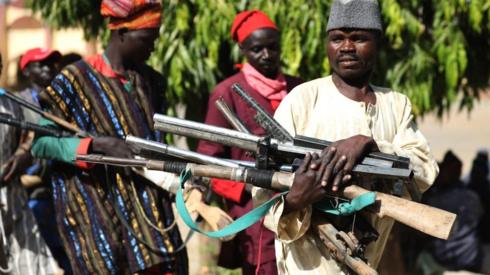 Featured Contents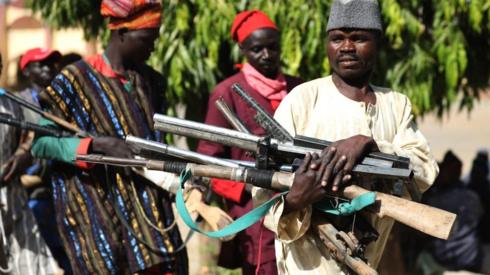 Latest Updates
By Megha Mohan

Gender and Identity reporter

By Jessie Williams, Sarah Habershon & Becky Dale

BBC News Arabic & Data Journalism Team

Mali migrants die at sea off Libyan coast

Mike Thomson

BBC World Service Newsroom

Twenty-two migrants from Mali, including three children, have died after their boat got into difficulties off the Libyan coast.

The Malian government said they were part of a group of more than 80 migrants who had been stuck on their distressed vessel for much of the last two weeks.

Sixty-one people were rescued from the boat with the help of the United Nations' migration agency.

A spokesperson for the agency said there has been a "significant increase" in migrant flows through Niger and Mali towards North Africa in the first quarter of this year.

Italy's president visits Mozambique seeking gas

Jose Tembe

BBC News, Maputo

Copyright: Mozambique presidency

Italian President Sergio Mattarella has been in Mozambique to boost relations as the country looks for cut its reliance on Russian gas.

This is being done via Italian oil giant Eni.

"Collaboration with Eni is important here: it is precious and I hope it can spread to other Italian firms," President Mattarella said at the presidential palace in the capital, Maputo.

Following the war in Ukraine, Italy has brought down Russian gas imports from 40% to around 25% following deals with Algeria, Egypt, and Libya among other African countries.

Mozambique's leader Filipe Nyusi, while acknowledging future co-operation with Italy, said his country needed to diversify its economy as well.

"People don't eat, don't smoke gas. That's why we talk about other areas, including agriculture, industry, fishing and energy and other areas," the president said.

Egyptian peacekeepers die in Mali roadside bomb

Will Ross

Africa editor, BBC World Service

The UN mission in Mali says two Egyptian peacekeepers have been killed and five others seriously injured when their vehicle struck a roadside bomb in the north of the country.

The UN mission (Minusma) said the attack between Tessalit and Gao may constitute a war crime.

It said mines and improvised explosive devices planted by jihadist fighters affected UN personnel, the Malian military and civilians without distinction.

The peacekeeping force is one of the UN's largest and is one of the most dangerous missions.

Over the last decade more than 170 troops have been killed.

Last month the UN Security Council extended the force's mandate by a year.

There is concern that the peacekeepers may be more vulnerable without French air support following France's decision to withdraw from Mali after falling out with the military leaders who carried out two coups.

End in sight for SA blackouts after pay deal agreed

South Africa's state-owned power company Eskom says it has signed a deal with striking workers that could see an end to power cuts which have crippled the country over the last week.

Known as "load shedding", the blackouts increased last Tuesday to up to six hours a day to avoid catastrophic grid collapse - a move Eskom blamed on the strike.

The workers had been demanding a 10% pay rise - and three unions had now agreed to a 7% deal, the company said on Twitter.

But Eskom warned that power supplies would still take time to recover.

"As a result of the strike, maintenance work has had to be postponed, and this backlog will take time to clear," it said.

More on this topic:

Arming citizens leads to anarchy - Nigeria minister

BBC Focus on Africa radio

Image caption: People in the northern state of Zamfara have been urged to get weapons

Nigeria's information minister has criticised a call by the leaders of one of the country's states that people should take up arms to defend themselves against militants, criminals and kidnappers.

At the end of last month, the authorities in the north-eastern state of Zamfara, told individuals to "obtain guns to defend themselves against the bandits".

The state "government is ready to facilitate people, especially our farmers, to secure basic weapons for defending themselves", a statement said.

But the federal government disagrees.

"Asking individuals to arm themselves is a recipe for anarchy," Information Minister Lai Mohammed told BBC Focus on Africa radio.

The solution, he said, was for the governors to "support the federal government in the area of security".

Image caption: Lai Mohammed believes security has improved in Nigeria since 2015

President Muhammadu Buhari is now in the last year of his eight-year presidency and, with frequent reports of attacks and kidnappings, there is a feeling that he has not been able to contain the violence.

But Mr Mohammed said this was not the case.

"State security has improved since 2015," he told presenter Bola Mosuro.

And when challenged that many ordinary Nigerians do not feel safe, the information minster responded saying: "You do not make a judgement on a matter that you understand very little about."

More on this topic:

Pope intends to visit South Sudan if health permits

Nichola Mandil

BBC News, Juba

Copyright: Nichola Mandil/BBC

Image caption: Cardinal Pietro Parolin, visiting in the pontiff's place, is in South Sudan for four days

Pope Francis still intends to visit South Sudan if his health improve, a top Vatican official who is touring the country in his place has said.

Last month, the pontiff had to postpone his trip to South Sudan and the Democratic Republic of Congo on the advice of his medical team because of knee pains.

He sent Cardinal Pietro Parolin, the Vatican's secretary of state, to the neighbouring countries instead.

"It's a great joy for me to be with you and to be able to stay for days and pray with you on behalf of Pope Francis," the cleric told bishops and government representatives on his arrival at Juba International Airport on Tuesday morning.

"The Holy Father is following development[s] taking place [in South Sudan] and he would like to assure all of you - the population, the Church and the authorities - of his prayers and his spiritual support," he said.

As part of his four-day visit, Cardinal Parolin will travel to Bentiu town on Wednesday. The capital of oil-producing Unity state, in the north of the country, has recently experienced flash floods that have forced thousands of people from their homes and destroyed their livelihoods.

The senior cleric will also celebrate a mass on Thursday and lay a foundation stone for the new Vatican Embassy in South Sudan.

The majority of the population in the world's newest nation are Christian.

It is nine years since the country broke away from Sudan - but many of those years have been dominated by a brutal civil conflict.

Catholic and Anglican church leaders have played a role in urging peace and a deal was signed in 2018, though disagreements continue.

The next year Pope Francis was filmed kissing the feet of rival South Sudanese leaders during a two-day spiritual retreat at the Vatican organised by both churches.

Uganda moves to outlaw trade in human organs

Patience Atuhaire

BBC News, Kampala

Image caption: To get a legal organ transplant, Ugandans - if they have permission - have to travel abroad at great expense

Uganda's health ministry has proposed a new law aimed in part at preventing the illicit trade in human organs.

The bill on organ donation, which has just gone before parliament, aims to protect the dignity and rights of organ donors and provide an environment through which transplant surgery, which is increasingly sought after in the country, can be done.

As well as outlawing cash-for-organs, if passed, the new measure would create transplant centres, organ banks and council to oversee the process.

It would also provide for organ harvesting from both living and deceased donors.

Ugandans in need of transplant surgery of any kind have to travel abroad - mostly to Kenya, South Africa and India - to access it.

Costs for travel and surgery are prohibitive. A trip to India for a kidney transplant, for example, could set someone back by at least $25,000 (£21,000) and up to $40,000 in travel expenses and medical bills.

On top of this, there is currently a strict official vetting procedure to see if a trip is suitable.

It is also hoped that the law can work towards dismantling the underworld of illegal organ harvesting.

In recent months, there have been at least three reported cases of Ugandan migrant workers returning home from the Middle East allegedly with some organs missing, suspected to have been illegally harvested or sold without consent.

In February, five directors of a labour export agency were charged with aggravated human trafficking, related to a case in which a female migrant worker returned home paralysed, with what are believed to be surgical scars on her stomach, and medical tests indicated that her right kidney was missing.

If the law is passed Uganda would join a handful of African countries, including South Africa and Kenya, that have laws regulating organ donation.

Top-level bid to end Ethiopia and Sudan border row

Will Ross

Africa editor, BBC World Service

Ethiopia's Prime Minister Abiy Ahmed and Sudan's coup leader Abdel Fattah al-Burhan have held talks in a bid to avert an escalation of the dispute between the two countries following recent clashes in a contested border area.

In a tweet, Mr Abiy said they had both committed to dialogue to resolve any differences:

Both leaders were in the Kenyan capital, Nairobi, for a summit of the regional body, Igad.

The African Union, the UN and Igad had all voiced alarm over escalating tensions between Ethiopia and Sudan.

Officials in Khartoum accused the Ethiopian army of capturing seven Sudanese soldiers in the disputed al-Fashaga border area. Addis Ababa denied the accusation.

Tensions have increased in recent years after Ethiopia's decision to build a huge dam on the River Nile.

More on this topic:

Abducted Italian priest regains freedom in Nigeria

Chris Ewokor

BBC News, Abuja

Copyright: Edo State Police Command

Image caption: The 64-year-old cleric was watching a village football match before his abduction

The Catholic Church in Nigeria's southern Edo state says an Italian priest who was abducted last Sunday by gunmen has returned alive - but there are contrasting accounts about how he regained his freedom.

The church said Father Luigi Brenna, 64, was abandoned in a forest by his abductors who thought he was dead after he had passed out.

But police say the priest was rescued by security forces following a gun battle that left three suspects dead and some others escaped, allegedly with gunshot wounds.

According to the church, Fr Brenna was watching a boys' football game at the Somascan Catholic Community's playground in the village of Usen when gunmen, shooting sporadically, stormed the venue.

The cleric was captured before he could run into his apartment.

The church says he was reportedly dragged into the bush after being beaten - including using machete on his head and body. He passed out in the forest and his abductors thought he was dead and abandoned him.

However, its statement says Fr Brenna regained consciousness and was able to find his way back to the village in a pool of blood and was rushed to a hospital.

But police spokesperson Jennifer Iwegbu said that security forces went after the kidnappers in a special operation that led to the rescue of the priest.

Three other Catholic priests who were kidnapped in two separate incidents over the weekend - in Kaduna and Edo states - are still missing.

Over the last few years Nigeria has been struggling to stop kidnappings for ransom by criminal gangs - and some armed groups have also now started targeting churches.

Zimbabwe to issue gold coins as legal tender

Will Ross & Shingai Nyoka

BBC News

Image caption: One troy ounce of gold - that will be in the Mosi-oa-tunya coin - costs more than $1,600

Zimbabwe's central bank says it will start selling gold coins later this month as a way to protect people against spiralling inflation.

Central Bank Governor John Mangudya said the 22-carat coin would be named the Mosi-oa-tunya, the Zimbabwean name for Victoria Falls, and would contain one troy ounce of gold - a little heavier than an imperial ounce and equivalent to 31.1g.

The coin will be easily convertible into cash and could also be used in transactions, the bank says.

But it will be beyond the affordability of most people, who are struggling in difficult economic circumstances. Currently, one troy ounce of gold costs more than $1,600 (£1,300).

The gold price fluctuates but is seen as a secure investment.

High annual inflation - which last month was measured at nearly 192% - has reduced the value of the local currency, so gold could be seen as an alternative store of value. US dollars are also used as legal tender but there is a dollar shortage in the country and it is hoped that the gold coins could reduce that demand.

Nigeria offers to admit students who fled Ukraine

Ishaq Khalid

BBC News, Abuja

Image caption: Some universities in Ukraine, like this one in Kharkiv, were hit by Russian missiles

The Nigerian government has offered slots for students who fled the war in Ukraine to continue their education at local universities and other tertiary institutions in the country.

In a statement, the Nigerian foreign affairs ministry says efforts are being made to "facilitate their placement into various Nigerian tertiary institutions".

The ministry has provided a registration form that interested Nigerian students can fill in on its website.

Thousands of Nigerian students were evacuated from Ukraine in the wake of the Russian invasion of the country - disrupting their studies.

But even if they get placements to complete their studies in Nigeria, it is likely to prove difficult because lecturers in local public universities have been on strike for several months over pay and working conditions.

It is not clear when the institutions will reopen.

More on this topic:

By Mohamed Fajah Barrie

BBC Sport Africa, Sierra Leone

By Kalkidan Yibeltal

BBC News, Addis Ababa

Tunisian parties call for referendum boycott

Mike Thomson

BBC World Service Newsroom

Image caption: Tunisians have been protesting against President Kais Saied

Two political parties in Tunisia have called for a boycott of this month's referendum on a new constitution.

The recently formed Work and Achievement party said President Kais Saied's draft constitution "seeks to entrench individual rule" and threatens the independence of the judiciary.

The secular Democratic Current party was also highly critical saying that it "threatens the existence of the state".

Speaking earlier President Saied denied that his proposed constitution would restore authoritarian rule, insisting instead that it would guarantee citizens rights and freedoms.

Tunisia's referendum is due to take place on 25 July.

Egypt jails researcher over Facebook post

BBC Monitoring

The world through its media

An Egyptian court has sentenced a researcher to three years in prison in a retrial over charges of "publishing false news".

Researcher Ahmed Samir Santawy, 30, was charged with "publishing false news from abroad" on conditions in the country in a Facebook post on his personal account.

He was sentenced by an exceptional court in a verdict that cannot be appealed.

Santawy's lawyer, Ahmed Ragheb, told the independent Mada Masr website that he would file a request with the recently formed presidential pardon committee for his client's release.

The researcher was initially sentenced to four years in prison over the same charges in July last year.

However the verdict was overturned after his lawyers filed a grievance.

Dozens of domestic and international human rights organisations have been calling for Santawy's release.

Santawy, who was studying in Austria, was arrested and detained by security forces on 1 February 2021 while on holiday at home.

His new sentence came one day before the start of political dialogue with opposition figures in the country on Tuesday.

Dozens of political activists were released ahead of the dialogue.