BBC News US & Canada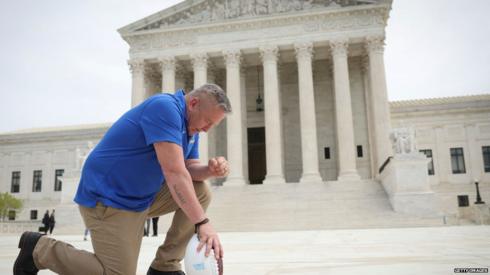 Top Stories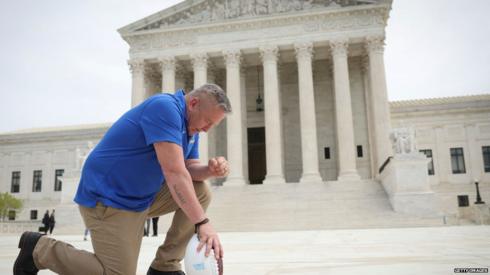 Featured Contents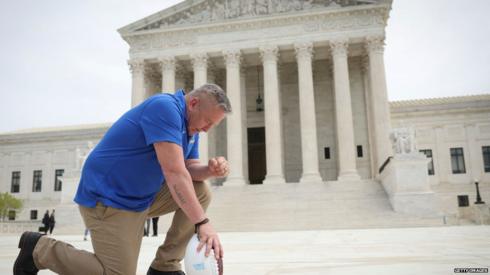 Latest Updates
By Bernd Debusmann Jr

BBC News, Washington

As the G7 leaders sat down for their first meeting on Sunday, they started to make fun of the Russian leader's so-called macho image.

By Tiffanie Turnbull

BBC News, Sydney

Nasa has launched its first-ever rocket from a commercial site outside the US.

By Chelsea Bailey

BBC News, Dallas, Texas

In South Carolina, six people are arrested at an event full of pro-choice and anti-abortion activists.

A video uploaded to social media shows police shooting tear gas into crowds of protesters.

Demonstrators take to the streets after court overturns Roe v Wade ruling.

How divisions over abortion could redraw US political map

Anthony Zurcher

BBC North America reporter

It's been 50 years since the legality of abortion was determined by votes, so the electoral implications of returning this power to the states are difficult to predict.

When abortion rights were protected by Supreme Court precedent, public opinion surveys generally indicated that it was conservatives who were more motivated to vote based on the issue. Democrats, with the status quo on their side, were less inclined to make abortion a top issue.

But recent polls suggest that calculus may change now that Roe is gone. According to a CBS News survey in May, 40% of Democrats said they would be more likely to vote if Roe v Wade were overturned, compared to only 17% of Republicans.

If Democrats are able to use the abortion issue to energise their base, it could give their hopes of electoral success new life despite a president struggling with low popularity and a challenging economic climate.

Control of the US Congress, which could pass legislation protecting or banning abortion nationally, is also up for grabs. Democrats have a slim majority in the House of Representatives and are tied 50-50 in the US Senate, maintaining control only through Vice-President Kamala Harris' tie-breaking vote.

Even the slightest shifts in electoral winds in the months before November's votes could have dramatic implications for abortion rights across the US.

Catholics divided on Supreme Court decision

Image caption: US President Joe Biden attends church in Wilmington, Delaware

The Catholic Church as an institution has long held that abortion is a sin.

Pope Francis has said aborting an unwanted pregnancy is like "hiring a hit man".

So it should come as no surprise that, officially at least, the Vatican praised the Supreme Court's decision.

On Friday, the Vatican's Academy for Life said the ruling "challenges the whole world" at a time Western society "is losing passion for life".

"By choosing life, our responsibility for the future of humanity is at stake," said Archbishop Vincenzo Paglia, the head of the academy.

Yet many Catholics support the right for people to end their pregnancies. According to Pew Research Center, more than half (58%) of Catholics in the US think abortion should be legal in most or all cases.

US President Joe Biden is perhaps America's highest-profile Catholic - he is known to attend church regularly and carry a rosary. But he has also been a vocal advocate for women's right to choose.

The issue has run him afoul of some of the church's top clergy. Last year, the US Conference of Catholic Bishops voted to amend the guidance on the eucharist to say that Catholics who oppose the church's teachings on abortion should not receive holy communion.

The guidance would be non-binding, and Biden says he's "not worried". He has continued to attend Mass every Sunday.

Where is abortion banned in the US?

In the hours after the Supreme Court overturned Roe v Wade, several states made moves to immediately ban abortion:

Utah
South Dakota
Kentucky
Louisiana
Oklahoma
Missouri
Arkansas

In Alabama, West Virginia, Wisconsin and Arizona, abortion clinics shut down because of pre-1973 abortion bans that were still on the books. With Roe gone, those laws are back in force.

In some states, "trigger laws" which were passed before the court's ruling are still waiting to take effect. These laws were designed to come into force once the court overruled Roe, but some have additional waiting periods.

Wyoming - five days
Mississippi - 10 days
North Dakota - 30 days

Texas, Tennessee and Idaho have a 30-day period after the court issues its judgement, which will happen after it issued its opinion on Friday.

Elsewhere, states that had abortion bans struck down by judges are now heading back to court to get the laws reinstated.

Legal battles are brewing in:

Michigan
Ohio
Georgia
Iowa
South Carolina

And the Guttmacher Institute, a pro-choice organisation, believes more restrictions could be passed in Florida, Nebraska, Montana, and Indiana.

Read more: What happens now?

US decision touches 'raw nerve' in Italy

Mark Lowen

Southern Europe correspondent for BBC News

Image caption: An anti-abortion protest in Rome in May

In 1978, five years after Roe v Wade, Italy legalised abortion with Law 194. And while it is not the same lightning rod political issue here, the rise of a new hard-right conservative politics, ever closer to the Catholic church, has brought it back into focus - and the US Supreme Court's decision is reverberating in Italy too.

From the political left and centre, there's been a chorus of condemnation and alarm. Emma Bonino, a leftist former foreign minister who helped pass Law 194, said it showed the risk in Italy of moving backwards and of "losing achievements that had seemed permanent".

But on the right, some feel galvanised.

"A great victory", declared Simone Pillon from the far-right League, adding that he hoped Italy and Europe would follow suit.

However, his party leader, Matteo Salvini, was notably more nuanced, stating that he believes "in the value of life… but on pregnancy, the last word belongs to the woman" - perhaps a recognition that the majority of Italians say they still support the right to abort.

While it's unlikely abortion would be restricted here, Law 194 allowed for conscientious objection by doctors - and across the country, around 70% of medics now refuse to perform the procedure. In some regions, it's 90%.

With the Vatican in its backyard, Italy is often behind the curve on some social issues, such as LGBT rights. There is pride among many that abortion was fought for, and enshrined in law, decades ago. But it is for some a raw nerve - and the US decision will touch that.