Ghana: From 'Commissioner General' Mahama to Akufo-Addo aka 'King Promise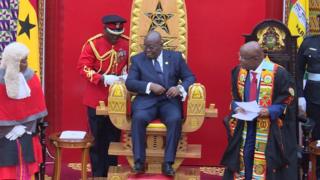 Ghanaians always dey give demma President's nicknames based on something dem be known for, di latest nickname for President Akufo-Addo be 'King Promise' sake of dem say he dey promise too much.
Some say former President John Mahama en nickname wen be 'Commissioner General' saf better pass Akufo-Addo who be King Promise, at least one dey show some action, but di other dieeer menerz no dey see kpaa!
If you dey follow Ghana music, you go know say some sakora musician be dey who dey call en body King Promise, be like part of di inspiration dey come from di paddy in name.
Every day, government go do this, morrow we go do that but e check like mouth-mouth den yorbins nkwaa sake of dat dem coin di new nickie give di old boy.
Why 'King Promise'
E no be clear where di name come from or who coin am but check like suddenly e start dey make popular anytime President Akufo-Addo go promise something new like en recent promise say government go secure CCTV give police service.
Again this last week noor he promise say government go prioritize solar energy, menerz no spare am.
Usually Ghanaians dey give demma President's nicknames sake of what dem dey do paa, JJ Rawlings get plenty nickname sake of he rule Ghana keep, some be 'Junior Jesus' sake of en role for di 1979 coup d'etat.
But after he leave power Ghanaians name am Dr Boom sake of he dey blast people left-right-centre for en speeches inside.
Former President John Kufuor in nick name be Gentle JAK, sake of he tall wey he be fine gentleman, but others call am 'Diewuo' for various reasons.
Late John Evans Atta Mills in popular nickname be 'Asomdwee hene' sake of he always dey preach peace during election campaign.
More funny 'King Promise' posts about Akufo-Addo