Anglophone crisis: military court don give Mancho Bibixy, odas 10-15 years for prison
Leocadia Bongben
BBC News Pidgin, Cameroon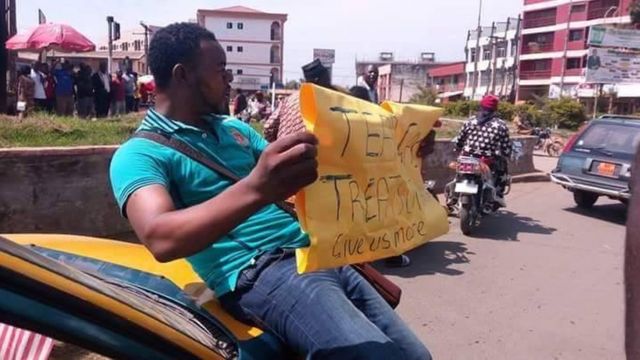 Military court for Cameroon capital city Yaoundé don sentence, Mancho Bibixy alias BBC, Coffin Revolution Man weh e enta for coffin for tok anglophone marginalisation and e six Kombi dem for 10-15 years prison.
Deh go also pay fine weh e reach laik FCFA 268 million, 204 million na for goment and 64 million na for civil party.
Mancho Bibixy alias BBC and Tsi Conrad get 15 years each, Tha Emile Agwe 13years, Awah Dzenyagha Junior Tomas, alias Awahro Thomas Sankara, 11 years, Tamngwa Malvin Tamngwa 13years, Aselecha Martin, General Ekelengue 13 years, Guingah Valentine 10 years, na de sentence weh court president, Col. Abega Mbezoua Eko Eko readam for court last night.
But before court president Col. Eko Eko read de sentence, deh collect all telephone for all civilians for court and only given back afta deh court finish e business.
Na so Tsi Conrad di tell de civilians, "wuna Ashia" for de telephone weh deh collect and Mancho Bibixy say, "jobless and hopeless goment".
Dia crimes dem na hostility for kontri, no respect goment worker and institution, spoiling goment property, group destruction, join terrorism acts, and no identity card, for arts
74, 102, 154, 157,187, 236, for penal code 2, for law no.2014/028, for December 23, 2014, weh e di punish terrorism and law no.90/042 for December 19, 1990, weh e start national identity card.
Before sentence, court bi don first declare dem guilty for terrorism, secession, share false info, ginger pipo for rebel, rebellion, hostility for kontri …
Court miss chance for make history: Maitre Claude Assira
Maitre Claude Assira for defence counsel, tok for BBC News Pidgin say de sentence make e weak as human being and as defence lawyer.
"Proof no bi deh for de claims for de civil parties, but we surprise for de damages, also sentence no be fit bi less dan 10 years, but we no be expect make deh add one more day for de ten years for seka say de charges be bi weak, deh no give proof for any charge for about two years trial", Maitre Assira tok.
"So court miss chance for give justice, for send positive message and na de reason weh ah bi disappointed with de decision, de court miss for make tins beta and fine".
As de law say defence get ten days for appeal Maitre Assira don signal say deh go appeal de decision.
De case don end for military court but de tin weh e take Mancho Bibixy go ngata na katakata weh e start for Anglophone regions wen lawyers march for show say deh no glad as deh no translate some laws and odas tins dem.
Den teachers too join for show say de no happy as goment Di spoil Anglophone education way for do tins.