Cameroon Anglophone crisis: Bloody Tuesday for Bamenda afta attacks for different areas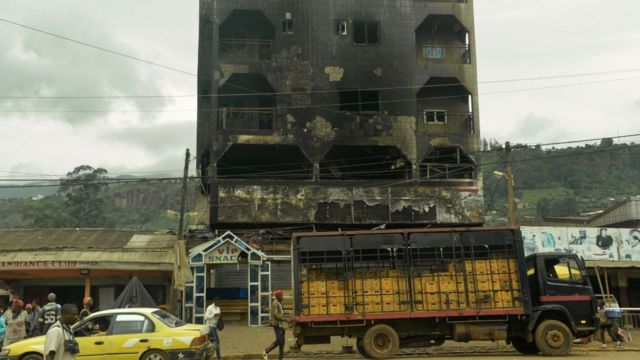 Civilians, ambazonia forces die , goment forces wound for Bamenda attacks on Tuesday.
Afta de kontri for Monday and kidnappings for Northwest region, Tuesday na bloody today weh no man bi fit expect as civilians, ambazonia forces die, goment forces wound afta attacks.
Tori be say shooting for Bamenda today na helele and e nova bi clear how many pipo die but stray bullet kill civilians and authorities say na five pipo die.
Di separatists wey dey claim say dem be Ambazonia forces and Cameroon goment soldiers di exchange fire as deh bin wan attack Minister for Basic Education for e hotel.
Ah di check how school di start and we wan say make population no fear, Basic Education Minister, Hadija Halim tok for BBC Afrique.
Eye witness say e bin di park e moto wen ambazonia forces just kam start shoot gendarmes weh deh di guard wan bank for around Mile 2.
Anoda shooting bi dey for Foncha Junction and de woman weh e see how de tin pass, say e nova know if e blood pressure go kam down.
Luckily say army shoot-shoot tire for de white pick-up motor weh de ambazonia forces deh bi di waka with and shatter de oda e wind screen.
Deh ambazonia boys run seize motor from one man abandon dia own run away as eye witness tell BBC News Pidgin.
Tori also komot say ambazonia fighters also shoot tire gendarmerie motor for two different place for town.
Pipo don di run from de area and no man know weti di happen, as we di tok so we know know how to send pikin dem from school.
De shooting even send pikin dem for hide under dia benches for hide from bullets weh e di pass for all side.
Minister for Territorial Administration, Paul Atanga Nji bin tok last moon say na just a small number for terrorist and na just a mata of taim, deh go soon crush dem.
Also de principal for PSS Bafut, Ndue Derick weh gunmen bin kidnap, torture and dump for road and good Samaritan take e go hospital di fight for e life, even though some pipo say e don die.
Na wowo pictures weh deh di circulate as deh gunmen use object break de principal e jaw and cut e hand.