US Mass Shooting: How many don happen for 2017?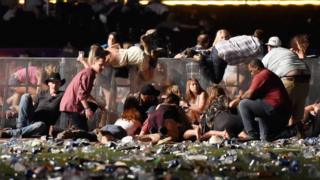 Di mass shooting wey happen early today for Las Vegas don leave 58 people dead and 406 people inside hospital with different injuries.
Dis na di worst mass shootings wey don happen for US history.
"Mass shooting" mean say dem shoot or kill more than four people for di same public place and time.
According to numbers dem from Gun Violence Archive, (one NGO wey dey collect information about every shooting for US) by 2 October 2017, na 273 mass shooting don happen since dis year.
Dis latest one wey happen for Las Vegas na as people go jollificate for country music festival; na so gunman open fire begin shoot anyhow.
Las Vegas shooting: 58 don die
Other mass shooting wey don happen for US
June 12, 2016: Omar Mateen, na 29-year-old security guard, wey kill 49 people and wound 58 others for one gay nightclub inside Orlando.
April 16, 2007: Seung Hui Cho, one 23-year-old student, just begin shoot so tay e kill 32 people for Virginia Tech inside Blacksburg, before e kill imself.
Dec. 14, 2012: Adam Lanza, one 20-year-old man carry gun kill 20 pickin dem and six adults for Sandy Hook Elementary School before im too kill imself.
Oct. 16, 1991: George Hennard, na 35-year-old man wey crash im pickup truck for one Cafeteria inside Texas, na so e shoot and kill 23 people before im commit suicide.
July 18, 1984: James Huberty, na 41-year-old man wey gun down 21 adults and pickin for San Ysidro inside Califonia, before police kill am.
Aug. 1, 1966: Charles Joseph Whitman, bin work as former U.S. Military man; im sef carry gun kill 16 people for University of Texas before police shoot am.
Aug. 20, 1986: One part-time post man, Patrick Henry Sherrill, shoot and kill 14 postal workers inside Edmund, Oklahoma before e kill himself.
Dec. 2, 2015: Syed Farook and Tashfeen Malik, one married couple wey dey live for Califonia, shoot and kill 14 people and injure 22 others for one Health training event for San Bernardino County.
Nov. 5, 2009: U.S. Army Major Nidal Hasan kill 13 people and injure 30 people also with im gun for Texas.
Sept. 16, 2013: Aaron Alexis na 34-year-old gunman wey shoot 12 people and injure three others for di headquarters of Naval Sea Systems Command inside Washington, D.C. Police later kill am.
July 20, 2012: James Holmes gun down 12 people for Aurora, Colorado.
Oct. 1, 2015: Christopher Harper-Mercer, wey bi 26-year-old student for Umpqua Community College near Oregon shoot one assistant professor and eight students for classroom. Dis one na after im do shoot-me-I-shoot-you with Police, before e commit suicide.
June 18, 2015: One gunman open fire for one weekly Bible study inside Emanuel African Methodist Episcopal Church for Charleston, South Carolina, kill nine people including di pastor.
July 16, 2015: Muhammad Youssef Abdulazeez carry gun spray two military installations for Tennessee, kill four soldiers and one Navy sailor but Police kill Abdulazeez during gunfight.
Nov. 27, 2015: One gunman attack one Planned Parenthood clinic for Colorado, kill police officers and two civilians, still come injure nine others.