Cameroon Cycling Tour: No pesin die for de Tonga accident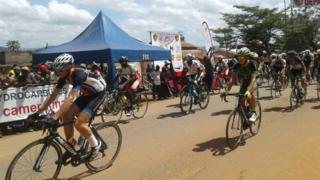 Accident no stop number seven stage for di 15 edition for Cameroon Cycling Tour from Tonga to Bangante 83.7km for West Region for Cameroon.
Veling Martin from Holland win dis lap but Uwizeyimana Bonaventure from Rwanda still keep de yellow shirt.
De bicycle race weh start for May 26 enta number seven stage today, accident happen before Tonga, de place weh de race suppose start for West region.
Na some paramilitary moto nack man weh e deh ontop moto-cycle de lead de race and de pesin deh now for hospital for Bangante for west region of Cameroon.
Dr, Yakana Elyssee weh na race doctor say de man for moto-cycle, Bessala Effa Athanase e life no dey for danger as deh don check de shoulder weh e hit as as e fall.
But, now so de race di continue as de number seven stage don start from Tonga for go reach Bangante.
https://www.bbc.com/pidgin/sport-43370902
https://www.bbc.com/pidgin/sport-42947010
E good for mimba say Cameroon no bi fit get moni for taim for organise dis race for February den International Union of Cycling, UCI nearly komot dem for dia calendar.
Afta goment and federation shiddon, deh go beg and UCI put back from May 26 to June 3, Sport Minister Pierre Ismael Bidoung Kwpatt launch de race start for Pouma for Douala road, as de caravan go Kribi, Douala, Limbe, komot Mbanga go for Bafang, den Bangante and de race go finish tomorrow for Yaounde.
Now so, na rider from Rwanda, Uwizeyimana Bonaventure di wear Yellow shirt, for de pesin weh e di pedal fast and na still de team from Rwanda get de highest points and deh get green shirt.
Bamba Karamoko get white with red dot shirt for pesin weh e sabi climb hill, de white shirt for de youngest rider na Ukinwabo Jean Paul from Rwanda di wearam, and Tekou Damien di wear blue shirt for best Cameroonian.