Champions League: Tottenham go face Real Madrid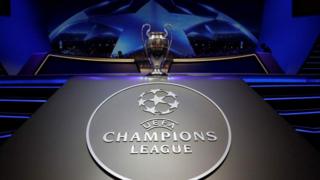 Real Madrid winger, Gareth Bale, and team mate, Luka Modric, go face dem former club, Tottenham Hotspur, after dem draw their new club join for di same group for Champions' League with dem old club. Uefa do the draw for Monaco, France and the Wales player, wey comot Tottenham join Real Madrid for 2013 go face Spurs for di first time.
Premier League champions, Chelsea dey group C and dem go play Atletico Madrid, Roma and Qarabag.
Europa League winners, Manchester United, go enter same trouser with Benfica, Basel and CSKA Moscow for Group A. Man Utd follow play Benfica and Basel for 2011 and dem comot for group stage.
For other premier league teams, Manchester City go battle am with Shakhtar Donetsk, Napoli and Feyenoord for Group F and Liverpool, wey beat Hoffenheim go meet Spartak Moscow, Sevilla and Maribor for Group E.
Scottish champions, Celtic go face tough test as dem dey same group with Bayern Munich, Paris St-Germain and Anderlecht.
The first match go start on September 12-13.
Groups as e be now
Group A: Benfica, Manchester United, Basel, CSKA Moscow
Group B: Bayern Munich, Paris St-Germain, Anderlecht, Celtic
Group C: Chelsea, Atletico Madrid, Roma, Qarabag
Group D: Juventus, Barcelona, Olympiakos, Sporting
Group E: Spartak Moscow, Sevilla, Liverpool, Maribor
Group F: Shakhtar Donetsk, Manchester City, Napoli, Feyenoord
Group G: Monaco, Porto, Besiktas, RB Leipzig
Group H: Real Madrid, Borussia Dortmund, Tottenham, Apoel
Dates for group stage match
Match day one: 12-13 September
Match day two: 26-27 September
Match day three: 17-18 October
Match day four: 31 October-1 November
Match day five: 21-22 November
Match day six: 5-6 December