Africa U-23 Cycling Cup: Rwandan don become winner for first edition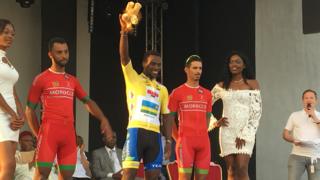 Joseph Areruya from Rwanda e name don enter history as de first rider for win first edition for U-23 Africa Cycling Cup, Cameroon 2018.
Di 22-year-old gather plenty points for di U-23 Africa Cup, to win yellow jersey as de race end Yaoundé.
Areruya don win race sotei space no go deh for write but de short tori na say e win de Gabon, cycling race-Amissa Bongo for January.
"De race dey fine; I glad as I win, but de first two stage dem bi strong. Heat worry me but as we reach Yaoundé de weather beta and na de same hill dem like Rwanda, so ah perform beta", na weti Areruya tell BBC News Pidgin.
Even as Rwandan na overall winner, na Eritrean Henok Mulueberhan win de last stage; e take 1 hour 50'44 for pedal from Akono to Yaounde, wey bi 71.5km.
Dis rider Henok wey e win red polka dot jersey for best climber, say Eritrean weh take lead for Douala get mechanical problems for Yaoundé and na so Rwanda over take dem.
For general classification, Visser Louis from South Africa na second after Areruya, while Natnael Mebrahtom na third and de first Cameroonian dey for 29th position.
International Cycling Union, ICU Commissioner, Didier Simon say as na first edition, de race be encouraging, though riders weh na dis first international competition find de race difficult.
E glad say accident no happen and de best riders dem win weh e show how deh prepare for de competition.