Winter Olympics 2018: See Africans wey dey compete for Pyeongchang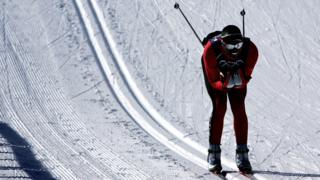 Na eight African countries go show for di 2018 Winter Olympics for Pyeongchang, South Korea, wey go start on Friday 9 February.
As e be say we no get snow and we get one of di hottest continent for di world, Africa no get di weather for dis winter sports dem, like skiing, bobsleigh and snowboarding.
But even wit all dis things dem wey no favour us, sports people from African country dem like (Nigeria, Eritrea, Ghana, Kenya, Madagascar. South Africa, Morocco and Togo) go represent us for Pyeonchang 2018
Dis na di first time wey e go happen for country dem like Nigeria and Eritrea, wey dey show for di first time for any Winter Olympics.
Akwasi Frimpong

Age:

31

Country:

Ghana

Sport:

Skeleton

Akwasi Frimpong na him start Ghana national Bobsled and Skeleton Federation (BSF-Ghana) for 2016.

Frimpong na sprinter before but achilles injury force am to change to another sport. 

E dey take about four to six years for person to dey fit compete well-well and learn di sport because e dey go very fast wey be say even your brain fit no handle am.

Sabrina Simader

Age:

19

Country:

Kenya

Sport:

Alpine Skiing

Simader, wey her family bin move go Austria wen she bin dey three years old, na di first alpine skier to represent Kenya for di Winter Olympics. 

She begin dey ski for competition for 2013. for 2016 she bin represent di East African nation for di Winter Youth Olympics for Norway.

Kenya people dey very impressed. Dem don give me plenty support and na dat one dey give me power.

Mialitiana Clerc

Age:

16

Country:

Madagascar

Sport:

Alpine Skiing

Mialitiana Clerc bin learn to ski wen she be just three years old for France. She become 16 years old on November 16, 2017 dis one don make her one of di youngest athletes for di games.

Samir Azzimani

Age:

40

Country:

Morocco

Sport:

Cross-Country Skiing

Samir Azzimani bin dey compete for alpine skiing before im come change to cross-country skiing. 

Adam Lamhamedi

Age:

22

Country:

Morocco

Sport:

Alpine Skiing

Moroccan-Canadian Adam Lamhamedi bin make history wen him become di  first African wey win gold for di Winter Youth Olympic Games for Austria for 2012. 

Moriam Seun Adigun

Age:

31

Country:

Nigeria

Sport:

Bobsleigh

Seun Adigun na she start Nigeria first ever Bobsleigh team. Na she be di driver for di team. 

She be former track and field athlete wey bin compete for 100m hurdles during di 2012 Summer Olympics for London. 

E still be like say no be true for me . . Nigeria never get anybody wey represent dem for di  Winter Olympics before and dem dey jolly asy e go finally happen

Akuoma Omeoga

Age:

25

Country:

Nigeria

Sport:

Bobsleigh

Akuoma na di "brakewoman" for Nigeria first ever bobsleigh team. 

She still dey work for healthcare recruitment. 

Ngozi Onwumere

Age:

26

Country:

Nigeria

Sport:

Bobsleigh

Ngozi Onwumere na track and field athlete before wey and she bin represent Nigeria for di 2015 All African games.

Simidele Adeagbo

Age:

36

Country:

Nigeria

Sport:

Skeleton

After nine years holiday wey she no compete for any sport, Simidele Adeagbo bin dey inspired by di Nigeria Bobsleigh team and she come decide to become skeleton athlete. 

Adeagbo na di first Nigerian wey go compete for dis sport for di Winter Olympics. 

Connor Wilson

Age:

21

Country:

South Africa 

Sport:

Alpine skiing

Connor Wilson bin go school to become vet for University of Vermont for US.

Mathilde-Amivi Petitjean

Age:

23

Country:

Togo

Sport:

Cross-Country Skiing

 Mathilde-Amivi Petitjean na member of France junior cross-country ski team before, now she don change to represent Togo, di country where dem born her.

Alessia Afi Dipol

Age:

22

Country:

Togo

Sport:

Alpine Skiing

Upon say e no get any family member for Togo, Alessia Afi Dipol wey dem born and she grow for Italy don choose to represent di West African country.

First time wey dis Alpine skier go compete under di flag of Togo na for di 2014 Winter Olympics for Sochi.

Shannon-Ogbani Abeda

Age:

21

Country:

Eritrea

Sport:

Alpine skiing

Abeda grow up for Canada and him bin wan become ice hockey player, but him parents come think say skiing na di sport wey go better for am pass.

Na him be di first Eritrean wey go represent di country for di Winter Olympics.

I know say e no common for Eritrean person like me to become skier, but Eritean people na very patriotic people. Anytime wey dem see person wey dey compete or represent Eritrea for beta thing, dem dey happy well-well
Person wey snap di picture:
Matthias Hangst/Getty Images, Dimitar Dilkoff/AFP/Getty Images, Francois Xavier Marit/AFP/Getty Images, Shaun Botterill/Getty Images, Christophe Pallot/Agence Zoom/Getty Images, Alexander Hassenstein/Getty Images, ALEXANDER KLEIN/AFP/Getty Images, Dean Mouhtaropoulos/Getty Images, Courtney Hoffos