Manchester United nack Tottenham 2-1 to qualify for FA Cup final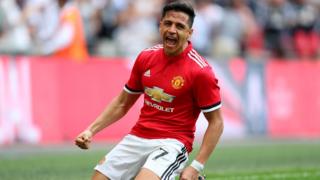 Manchester United come from one goal down to nack Tottenham 2-1 for dia FA Cup semi-final for Wembley.
Na Tottenham start di game like house wey dey burn and open net wen Dele Alli connect wit fine cross from Christian Eriksen.
Spurs continue to dey control di match and Harry Kane almost make am numba two for dem, but im leg no long to reach one cross from left side.
United equalize wen Paul Pogba collect di ball from Dembele leg, come cross ball wey land for di head of Alexis Sanchez, wey nod am pass Michel Vorm.
Di second half balance well-well but na Jose Mourinho team wey finally come find way take see road.
Ander Herrera fire low shot wey fly pass Michel Vorm wey be Tottenham goalkeeper afta counter-attack wey involve Romelu Lukaku and Sanchez.
As dem score dat one, Man U come lock dia back, carry key throway. Tottenham try, try, try, but dem no see road pass.
Now, United go dey wait to see who dem go play between Chelsea and Southampton for final.