World Cup 2018: How Cameroon win World Cup final for France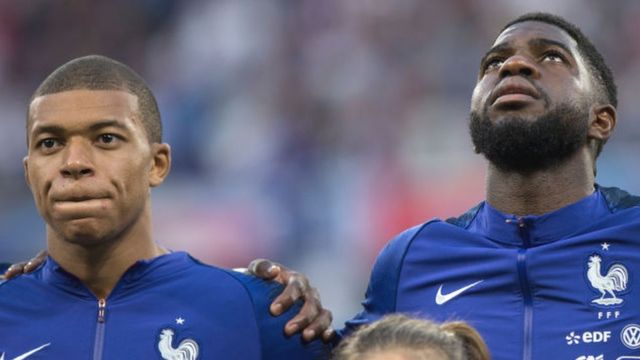 Since weh deh sack African teams dem from World Cup for Russia, Cameroonians dem di support France strong-strong as deh know say dia blood di run for France e vein with two players weh deh di shine for de team.
Even as France dia team get plenti players from Africa and deh di call dis team sixth African team and Africa United, tori afta France komot Belgium with 1-0 win na say Cameroon qualify France for final.
Na Samuel Umtiti, 'Bassa boy' from littoral region weh deh born e for Yaoundé for 1993 head de ball inside net, de only 'mbunga' weh e land France for final.
For seka Umtiti e goal, Belgium weh deh get beta show for dis competition don pack dia kaya and deh play third place.
But Umtiti no be de only player weh e get Cameroon blood for France team, Kylian Mbappe na anoda player weh e get Cameroon blood.
Mbappe weh e di run laik lightening and weh e still bi only 19 years play beta football, and yesterday e make de Red Devils dem run fain-fain.
E di join for front with Griessman and Matuidi though dem miss for score plenti goals against Belgium for play beta ndamba.
Mbappe e family weh e di stay for Bonapriso, (dia late uncle Eboa Lottin bi bi na some big musician) quarter for Douala di surely watch dia grand pikin touch ndamba with style.
For seka dis two players dem, Umtiti and Mbappe, fans dem di feel say na Cameroon qualify France for final and some pipo say na Cameroon reach finals.