Libya coach Adel Amrouche don tok sorry afta im say Nigeria dey cari juju for head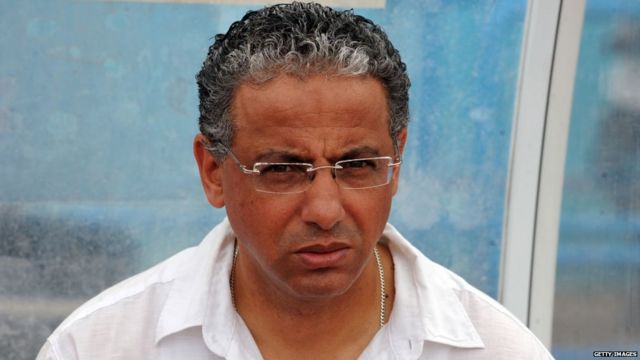 Libya national football team head coach Adel Amrouche don do u-turn afta im claim say Nigeria Super Eagles dey use juju to play ball.
Amrouche tok say im wan say sorry to di Nigeria football community afta for press conference for South Africa wia im say Nigeria Super Eagles and juju na 5 and 6.
Amroruche say na joke im just dey joke, say im get respect for Nigerians but im don see say na bad joke.
Skip Twitter post, 1
I apologise to the Nigeria football community for using the words JUJU in the press conference in SA.I used the word in jest.I respect Nigerians and their RICH football tradition.I'm a man who likes joking,but I realise I used the word out of context.Please accept my apologies.

— Adel Amrouche (@adelkouba) September 9, 2018
End of Twitter post, 1
For di Saturday press conference im do afta di Tuaregs of Libya team draw 0-0 wit Bafana Bafana wey dey same group wit Nigeria for di 2019 AFCON qualifier, Amrouche tok im mind about how im feel about di Super Eages wen dem ask am about im plans for di two kontri battle next month.
Amrouche tok say: ''Believe me, I go prefer to play Nigeria instead of Bafana Bafana (South Africa)''.
''I get experience to play against Nigeria and for me South Africa get quality players, e no easy to play Bafana Bafana.''
''For me Nigeria, I dey ready for Nigeria, for home, if dem wan, we fit play two times for Nigeria.''
''I no say una dey believe in juju too much and as for us, na God we dey believe,'' na so Amrouche tok.
Amrouche bin vex Nigerians wen dis im juju tok reach internet dat Saturday.
Pipo don chook dia mouth enta dis kwanta for Twitter.
Skip Twitter post, 3
This comment from Amrouche is simply disrespectful towards Nigeria. This man is an idiot. He wants the bafana job so bad and he is willing to say any rubbish to gain ground on that.

— Dewale Laniyan (@I_amHaykay) September 9, 2018
End of Twitter post, 3
Skip Twitter post, 4
#Libya coach Adel Amrouche says he prefers to play #Nigeria because 'they believe in juju (black magic/voodoo) and his team in hard work'.

Amrouche insists Nigeria can go ahead and host both ties (home & away).

Another job, same ol' arrogance and lousy attitude. 👏🏻 https://t.co/HueFwuasCr

— Oluwashina Okeleji (@oluwashina) September 8, 2018
End of Twitter post, 4
Skip Twitter post, 5
I have always wondered how people spend so much time watching AM Epic when there is Family on the same bouquet. I find the sort of movies they show tasteless, I didn't know that's what Libya's coach, Amrouche watches everyday.

Only explanation to his comment yesterday.

— Fisayo Dairo (@FisayoDairo) September 9, 2018
End of Twitter post, 5
Nigeria and Libya go enta one trouser for di 1st leg of di two kontri AFCON qualifier on October 10 for Kaduna, north central Nigeria.