Seedorf put smile for Cameroon fans dia face with 1-0- win for Mfandena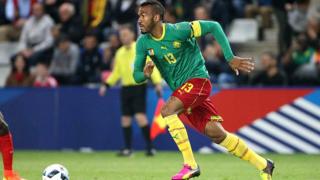 Clarence Seedorf put smile for fans face as Lions chop de Flames for Malawi for Mfandena, Amadou Ahidjo stadium wen Choupo Moting weh e di play for Paris saint German fire shot pass goalkeeper Charles Swini for Cameroon to win 1-0.
With dis win Cameroon remain top of Group B with seven points.
De two teams start d match with de same level of energy and Cameroon start for put pressure for Malawi with Choupo Moting for front.
Choupo take e responsibility as captain for de match and as forward put smile for fans dia face with de beautiful shot.
De Lions play beta dan for Comoros Island weh deh struggle for draw 1-1, but if de midfield and defence work beta, attack no work fain as na only deh shoot straight for goalkeeper Charles Swini e hand for first half.
Even if Malawi no score for first half deh defend dia goal well and no concede goal and only for second half weh Choupo Moting break de Malawi e defence for score de first gaol for 62 minute.
For de last part Lions dem show some good combination with Oyongo Bitolo, Choupo Moting and Zambo Anguissa.
Chinese man, Christian Bassogog no play as e get small wound but e go play for Tuesday return match for Malawi for October 16.
Cameroon na host for 2019 Africa Cup of Nations with 24 teams and don qualifier as host even if deh go still play de qualifier matches.