AWCON 2018: Cameroon na first team for qualify for semi-finals from group stage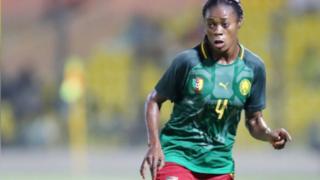 Cameroon women football national team- Lionesses put Algeria 'inside soup' as deh beat dem 3-0 for Women's Africa Cup of Nations for Accra stadium, second win weh e put dem for top de Group A and land dem for semi-finals.
For di Ghana 2018 Women's Africa Cup of Nations competition, since na only eight teams di participate, deh no di play quarter finals, deh di qualify straight to semi-finals because na two teams di qualify for de two groups.
Aboudi Onguene weh e di play for CSKA Russia open door for mbunya for 13' minute as e comet laik lighten kick straight for goalkeeper but de ball bounce back for e foot and e score as Enganamouit service e ball.
Gaelle Deborah Enganamouit, Avaldsnes follow afta hard struggle for 53' minute. Na goal weh e freed 2015 player of de year form wan kain spell weh e nova score since because of wound and e just di cam back for form.
Den Nchout Njoya Ajara weh e win best scorer award for e club, Il Sandviken with 15 goals add de third goal for 60' as de three attackers score for put dia team for lead.
Group A na group for mathematics and equations, plenty ifs. Cameroon di top de group with six points but Ghana, Mali and Algeria still get chance for qualify if deh beat dia opponents for last game.
Cameroon di play with host Ghana for de last group game.
Cameroon Coach, Joseph Ndoko say deh go take de match laik all de odas but deh know say e no go easy.