Cameroon Kumba kidnap: Goment forces free nine pikin, dem teacher, kill four separatist forces for Kumba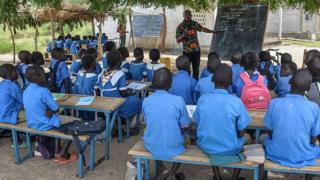 Goment forces free all nine school pikin dem and dia teacher weh deh kidnap for Lords Bilingual Academy last night, kill four separatists for gun battle, Nto'ou Ndong Chamberlain, Senior Divisional officer for Meme Division, Southwest don confirm.
Instead of more dan 20 school pikin dem as tori pipo dem report officials say na nine (9) pikin dem with one teacher weh deh kidnap.
De tori na say as deh gunmen di kidnap some pikin dem, ara one dem jump fence and deh no bi know wusai deh go till afta, as Ebane Slesor, Meme Divisional Delegate for Communication bin explain.
SDO for Meme say wen deh get de news deh send goment forces for dia back and later for night deh first free three students as goment forces fight de separatists forces,
Na so deh kill fighters, destroy dia camp and motor-cycles weh de di use for do bad for town.
Na during de fight as deh separatists forces di run, deh abandon de remaining six pikin dem and dia teach and deh go back for house.
For morning as de gunmen di bury dia die bodi dem army surprise dem kill dia leader weh deh di call yi 'Man of Luck' and wound anode one, take five gun dem for dem.
Na four separatists weh deh kill destroy dis camp and cease nine guns.
No bi de first kidnap for Kumba, as deh bin kidnap principal for, free e, and school pikin dem for Fiango too weh deh later free.
Deh kidnap two students dem for goment teacher training institute and later free dem.
Kidnapping na de new weapon for get moni weh some separatist forces di use for harass population.
Na so population for Northwest and Southwest regions di beg goment for fain solution for dis Anglophone crisis weh e don di go before since two years now.
More dan 1000 civilians and 200 soldiers don die for dis fighting for de two regions.