JAY-Z: Things 'dey cool' with Solange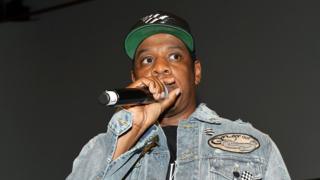 JAY-Z say things "dey ok" with Solange Knowles after their lift wahala for the 2014's Met Gala
As part of Rap Radar podcast, him address the matter say na just one-off.
"Na only one disagreement we get," him talk. Before the matter and after matter we dey fine."
The video dey like say Solange been try to kick and hit JAY-Z in front of Beyonce before security people hold her for New York Standard Hotel.
But e JAY-Z say "we get very good relationship; I don fight with my brothers, and argue with my brother for my whole life. She dey like my sister; I go protect her. She be my sister, no be my sister-in-law. "
But what about the music wey come out?
Beyonce don take the matter sing, after e happen. She say: "of course sometimes (things) dey go down when billions of dollars dey for lift."
And as JAY-Z too mention am for him opening track 4:44, BBC ask wetin him think of the music e produce. Im say all of dem enter dat lift as great artists, and the album na "honest portrayal" of am.
JAY-Z say im never dey dis honest "for so long."
Im add say ne news headlines "go dey about me and Kanye, and things like that, but this album get plenty tori.