Why government ban plastic bag for Kenya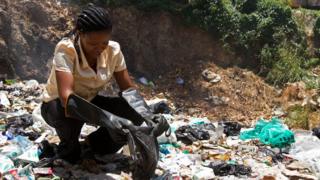 The ban on top plastic bags for Kenya take effect today August, 28.
Wetin this mean be say if you sell, make or carry plastic bag you fit go jail for four years or pay $38,000 fine
The government talk say di ban go help protect di environment. According to report, Kenya dey use reach 24 million plastic bags for one month alone and dis dey cause serious problem.
Dis na di third time in 10 years wey dem try ban plastic bags for Kenya.
Di National Environmental and Management Authority for Kenya talk say under dis new law, people wey dey enter di country must to drop all their duty-free plastic shopping bags for airport .
But people wey dey produce am don talk say 80,000 job fit loss.
Two plastic bag importer been try to stop government from making di law as dem carry di matter go court but dem lose di case.
Some Countries wey don ban Plastic bags
United Nation Environment Programme (UNEP) talk say the use of plastic bags dey cause serious environmental damage and dey also cause di death of at least one million birds and 100,000 animals wey dey water each year. For February 2017, UNEP declare War on Ocean Plastic .
For May 2003, South Africa set record when dem ban thin plastic bags come put money on top di ones wey dey thick. Eritrea, Rwanda and Somalia ban plastic bags for 2005. Tanzania (wey Zanzibar join) ban am totally for 2006. Uganda and Kenya ban thin plastic bags too for 2007.
If you leave Africa, countries like China and Bangladesh don ban very thin plastic bags. United Arab Emirates, wey dey concern about pollution and di risk to camels and other animals, ban all plastic bags except for oxo-biodegradables.