Diana: Di Princess wey love Africa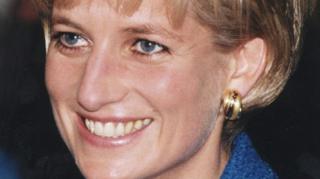 Aside say she dey beautiful, she dey intelligent and she sabi fashion well-well, di thing wey make people love Princess Diana na say she love people and like to dey help dem through her charity work.
Today, di world dey pay tribute to Princess Diana 20 years after she die for car crash for Paris on August 31, 1997.
She bi 36-year-old dat time.
Although her children dey mark di anniversary privately, for other public places , services dey go on in her honour.
People wey dey close to her and even those wey no ever meet her everywhere, including Africa dey talk about her.
Diana, na Princess of Africa
Diana dey very popular for two major humanitarian work wey she do, although when she dey alive she be patron of over 100 charities.
Na her work with landmines and how she make world people put eye on top AIDS patients na im Africans remember her for.
Princess Diana travel go Africa plenty times to visit people wey get HIV/AIDS; she use her influence for public eye to support these people, still give dem voice.
Why her name still dey people mouth na because she bi one of di first high profile figures wey shake hand with AIDS patients, hug dem, for time wey AIDS na new discovery for di medical world, and everybodi dey fear di disease.
All dis one help change people attitude to di disease, something wey world still dey battle today.
Many people say dem love her because she no dey send all di royal protocol and tradition; she dey see everybody as equal.
Princess Diana work serious sotay she put mouth tell Angola say make dem clear all di landmines for Angola wey dey blow up, wound innocent people.
She campaign well-well on top di matter, especially as children dey lose their legs.
For 1997, just months before she die, Princess Diana visit Angola. Because of her, dem clear di two towns wey she visit for 1997 completely from landmines, and now dem be very vibrant places for di people. Di full tori be say authorities don destroy more than 80,000 land mines for Angola.
When she dey alive, Diana tell BBC Martin Bashir for 1995 say, ''Nothing dey bring me happiness pass to dey help most vulnerable people for di society, na goal and essential part of my life, na like my destiny.''
She also talk say ''I go like to be queen for inside di heart of di people''
Na wetin e be so, although 20 years don waka since she die, people never forget her, like her brother Earl Spencer talk ''Diana dey unique, complex, extraordinary and irreplaceable.''