South Africa: Parties must talk who give dem money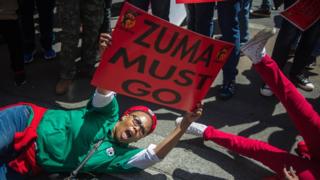 South Africa parliament go begin change di country freedom of information law to make sure say political parties begin write down di names of those wey dey give dem money.
Na during ruling inside di Western Cape High Court on 27 September, na im Judge Yasmin Meer say dis change dey necessary, and na only law go fit force political parties to talk where dem dey see money from.
Tori people say dis one fit show di whole world di faces of those wey don dey influence power for di country since two decades after apartheid.
Some opposition parties no happy at all with dis ruling; dem feel say to dey call names of donors go mean say dem no go get plenty money like before - even though di court get power to order parliament to begin work on top di matter.
Di law wey dem go change small na di Promotion of Access to Information Act (PAIA).
Judge Meer still write for court papers say to show private funding of dis political parties and independent candidates wey no get party dey important, so that people go fit really get right to vote for election, and make di right choice.
Reactions dey come
Di people wey carry dis mater come court say why di PAIA law no go reach how party dey collect money, na non-profit organisation My Vote Counts (MVC); dem happy well-well with wetin court talk.
"Dis one mean say law support don come wey go allow us know dis information," na wetin MVC talk for statement.
But another thing be say parties fit begin see big embarrassment, because "you fit find out say people wey e be like dem don dey support on party well-well for outside, fit dey actually give money to another party," na wetin political analyst Gary van Staden tell Reuters.
Di main opposition party wey be di Democratic Alliance, wey dem mention inside di case, say some of those wey dey give dem money no go like make their name dey for outside because dem dey fear, or dem no want make people begin abuse dem.
Meanwhile, di ruling party African National Congress, never put mouth inside di matter.