Cancer: "I don see many people die for Nigeria hospital" - patient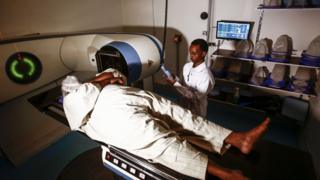 'Dog for US fit get beta cancer treatment pass woman for Nigeria'
One US man cause confusion on top social media after im tweet say dog wey get cancer for US get chance to beta healthcare pass woman wey get cancer for Nigeria.
Di man wey call imself Africafeed on top Twitter, talk say wetin make am say dis thing na because di US get pass 2,500 linear accelerators wey dem dey take treat cancer and dem come reserve 65 for animals.
Im add say but for Nigeria, na only 6 out of 18 of those machines dey work.
Some Nigerians vex well-well on top di statement while some others talk say di man no lie. Dem say hope no dey di country again.
As people dey talk dia own for di matta, Runcie Chidebe wey be di oga for Pink Blue, wey bi cancer NGO for Nigeria tell BBC News Pidgin say di radiotherapy machines wey dey work for Nigeria no even reach 6.
Im say di ones wey dey work dey for University of Ibadan Teaching Hospital for Oyo State, south-west Nigeria and Ahmadu Bello University Teaching Hospital for Zaria, Kaduna State, north-west Nigeria.
Runcie say dis na why Nigerians dey travel go Ghana and Kenya for cancer treatment and dem dey spend pass $8,000.
Im still dey wonder why government for Nigeria still never provide di N9bn wey dem say dem go give health care for dis year budget.
Healthcare na one big palava wey most developing countries still dey face even for dis 21st century and Nigeria no be exception.
Na common thing to see government oga dem for Nigeria wey dey always travel go outside di country to go treat small-small sickness.
E neva too tey when Nigeria President, Muhammadu Buhari, come back to im country after im travel go London for over 100 days for hospital treatment.
But as government officials dey travel for treatment, country people wey no get money to travel go overseas no get choice but to manage di hospitals wey dey dia country.
Even those wey hold enough money for hand no dey sure say dem go get proper treatment because plenty hospitals for Nigeria no too get facilities and correct technology.
'My former fiancé dump me after dem see cancer for my bodi'
One example na wetin happen to Comfort Onyayi Daniel. For December 2014, thirty-seven-year old Comfort notice say she get some kain lumps for breast.
After she go hospital, doctors see cancer lumps for her left breast. Dem tell her say she get stage 2 cancer.
Dis na how life change for Comfort sotey di man wey she love wey don promise to marry her run leave her after im hear di heartbreaking informate about her health.
Comfort say e pass three months before she even see any hospital where she fit do test. She bin go Asokoro General Hospital for Abuja, capital of Nigeria but no doctor gree look her bodi because dem dey strike.
For more than 17 months after cancer begin worry Comfort, she no take any treatment because she no get money. Dis one come make di cancer reach stage 3.
Comfort say na Pink Blue wey be cancer NGO for Nigeria help her condition. Di NGO carry her mata for head, enter social media to raise N1.3 million ($3,715) to help pay for her treatment.
Dis NGO carry Comfort from Abuja come one private hospital for Lagos wey be one of di very few hospitals for Nigeria wey get radiotherapy machine for cancer treatment.
Comfort no dey happy with Nigeria government at all because she feel say dem no care at all. She talk say most times, she fit reach hospital by 5:30am and no doctor go attend to am till 6:00pm.
Since she begin go hospital for treatment, Comfort say she don see plenty people wey dis cancer don kill.
She want make di government reduce di cost of cancer drugs and treatment for Nigeria.
So far, Comfort don spend almost N20 million ($57,143) on top treatment.
She get hope say di medicine wey she dey take now go make di cancer comot her bodi finally by January 2018.