3.3 million pickin for Nigeria never take measles vaccine - WHO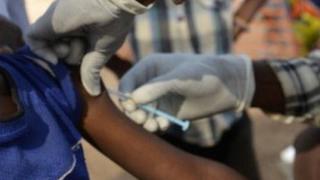 Nigeria get di highest number of pickin dem wey never collect medicine against measles, according to one new report wey World Health Organisation release.
Di report say 20.8 million pickin still dey miss dia first measles vaccine dose and more than half of dem dey live for six countries.
Measles na disease wey fit catch person quick quick. Although say vaccine dey, measles still be di number one killer of pickin dem around di world.
Measles dey spread from water wey dey come out from person wey get am nose, mouth or throat.
Na after 10-12 days e dey start to show for di face of person wey get am. Di person go show sign of fever, catarrh, red eyes and white white spots for inside im mouth.
Dis na di first sign, then after some days di person go come get rashes all over im body.
Pickin vaccine go soon enter only one injection
"We don get typhoid vaccine wey dey work" - WHO
See di list of di country dem
Nigeria -3.3 million
India- 2.9 million
Pakistan - 2.0 million
Indonesia - 1.2 million
Ethiopia - 0.9 million
Democratic Republic of Congo - 0.7 million.
For 2016, na like 90,000 people die from measles - na 84% drop from more than 550,000 deaths for year 2000 - according to report from leading health organization dem.
Dis na di first time wey global measles death don fall reach 100,000 per year.