Alfred Woyome: Which power ECOWAS Court and ICC get?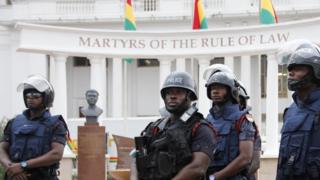 Ghana Supreme Court reject di order wey Africa Court of Human and People's Rights give make dem stop di case of Alfred Agbesi Woyome.
Di Supreme Court say make Woyome return di Ghc51 million wey government pay am by mistake, but Woyome, powerful Ghana businessman, and strong member of National Democratic Congress, go di Africa court to appeal say Supreme Court dey abuse im human right.
According to di decision of di five man member panel of justice for Ghana Supreme Court, no reason dey at all to make dem share power and jurisdiction with any other court, therefore dem no go stop di case.
But na which one be Africa Court of Human and People's Rights? What of ECOWAS Court or International Criminal Court (ICC)?
Africa Court of Human and People's Right
Dis na court wey African countries come together create to help make sure say people rights dey protected.
Na Organisation of Africa Unity (OAU) adopt Article 1 of di Protocol for African Charter on Human and Peoples' Rights take establish di court for June 1998. E become law for 2004.
Thirty African countries ratify di protocol but na only eight of dem agree say no be only NGO dem fit go di court, ordinary person fit go dia too. Ghana follow for di eight countries.
ECOWAS Community Court of Justice
Economic Community of West African States (ECOWAS) create dis court to make sure say all countries wey be member dey observe di agreement as e suppose be.
Di court work na to give legal advise or opinion for mata wey concern di community.
All di member countries fit go di court with dia case. But e no end dia, any company or ordinary person, plus people wey get human right case fit go dia. Even sef, court dem wey dey inside any of di community country fit ask di Community Court of Justice to interfere.
ECOWAS Court: Sam-Sumana sack dey illegal
Biafra: Court say make Nigeria pay $244 million to war victims
International Criminal Court (ICC)
For United Nations General Assembly conference for Rome for June 1998, 120 countries make international criminal court happen.
Di work of di court na to prosecute di people wey don commit serious crime dem like genocide, war crime and any kind crime against humanity.
But di idea no be for ICC to overtake di work of national court o. In fact, dem go only fit chook mouth for mata wey countries no fit to, or no dey willing to investigate.