World Vitiligo day 2018: 'White spots wey do my skin like Michael Jackson turn to blessing'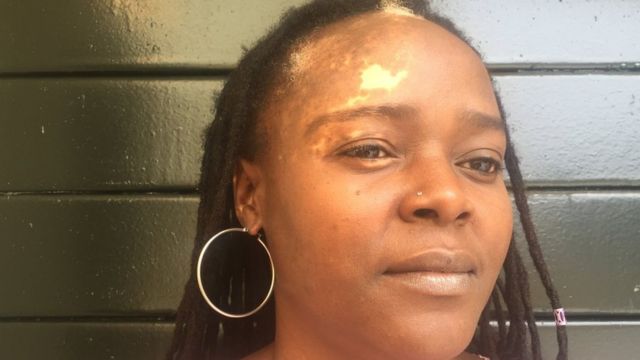 Na for February 2005 na im Ogo Maduewesi first notice white spots like rashes dey show small-small for di front of her head and neck.
She no too carry am for mind because she believe say na bad food she chop cause am and e go comot last-last.
Three months pass and di spots begin spread reach other parts of her bodi; she begin dey think say na white leprosy she get and dat na wetin ginger Maduewesi rush go hospital.
For di Lagos University Teaching Hospital (LUTH), na im skin doctors tell Maduewesi say she get vitiligo.
Vitiligo na skin and hair condition wey dey make di natural colour of person skin or hair turn to white.
E fit happen to anybodi, whether dem black or white or dem dey for Africa, Asia or Europe.
Sabi people no too sure wetin dey cause am but people wey no get am no fit catch am from vitiligo sufferers.
But di same sabi people talk say 30% chance dey say vitiligo sufferers fit carry am for blood, transfer am to dia pickin for belle.
Ms Maduewesi begin notice say her neighbours dey avoid am; some of her friends no gree pick her phone calls on top say she get vitiligo.
Some family members no wan make she worry so dem no gree look am for eye - even her Papa believe say na one bad person im get palava with dey use juju on top im pickin.
Maduewesi tell BBC Pidgin say: ''some people talk say na bad people no wan make l marry, odas talk say na curse because l vex Obatala (traditional god).''
''One time, one family friend see me for bus stop and she just begin dey cry sotay, people begin gather dey look us.''
''But di wan wey pain me pass na when some university students see me for road and dem start to dey gossip say na bleaching wey l no do well, dey do me,'' na wetin Maduewesi add put.
As things be so, vitiligo no get cure but Ms Maduewesi bin no know that wan for when she first get am.
Nothing no dey wey she no use try treat di matter.
Maduewesi talk say, ''I go church, l eat fruits and vegetables for 12 months and l even drink piss, but nothing work.''
E reach where she no dey happy for long time and because she no know other vitiligo sufferers, nobody fit understand am.
Last-last, Ms Maduewesi tell herself say, vitiligo no get cure, so di only thing she go fit do to make herself happy na if she begin re-love herself again.
So she begin write about her tori for internet and social media wey spread am everywhere.
Dis na how she begin see say she no dey alone, and vitiligo sufferers like her plenty for Nigeria, Africa, Europe and America.
Because information about vitiligo no plenty before-before, Maduewesi start her own NGO, wey be ''Vitiligo Support and Awareness Foundation (VITSAF)."
VITSAF, wey be di first vitiligo NGO for West Africa, don become like house for people wey get vitiligo to come together, and help demsef.
''One office worker tell me say VITSAF give her one kain confidence to remove di make-up she dey always use to hide her vitiligo, and her colleagues don accept her."
Ms Maduewesi don carry di tori of vitiligo everywhere for world and she don become 'skin celebrity.'
''Di other day, I receive one call from Indonesia from person wey wan start vitiligo NGO for dia.''
''If not for vitiligo, who go know me? E don turn blessing."