10 things to know about people for Congo Basin Forest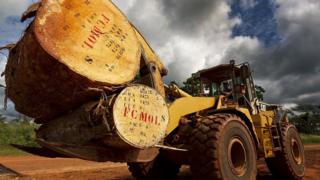 Na very hot day for di Congo Basin Forest. If you dey waka pass di forest, you go hear as pickin dem dey laugh as nature sef dey make e own sound.
Lungs of Africa as people dey call am, di forest na di house of many people wey dey depend on am for dia everyday life. Jean Paul Byama Kikukama wey be animator for GASHE, environmental NGO and indigene of Bikoro for di Democratic Republic of Congo tell us how everyday life be for many young people wey dey stay for di forest.
1. How you see life for di Congo Basin Forest?
Na people wey dey stay for di forest get Congo Basin. Indigenes like di Pygmies and Bakas don dey raise dia families here for generations. Just like other communities - people for here like to dey provide for dia families and to dey make sure say things dey move for di community.
2. Wetin be some of di main resources wey di forest dey give di local communities?
E dey give people wey dey stay here all di things wey dem need to survive - house, food, medicine and handwork. For us, di forest na way of life and our house.
3. How dem dey take jolly for weekends?
We just be like other young people everywhere for world. We like to dey mingle, e fit be - local dance, visit to di river, weddings or even to just dey with our families. Many of us dey do community work like youth gatherings where we go take time to follow ourselves yarn about culture and tradition.
4. Wetin be di best thing about life for di Congo Basin Forest?
We get plenty activities wey we fit do - fishing, local farming, mingling but we also dey always think about each other. Anything wey you dey do, you fit see others wey go help you.
5. Wetin be di main local food here?
Di main food na cassava wey don ferment, fresh vegetable, meat and fish. People wey dey live for forest like to dey pick some kain strange things like caterpillars and wild fruits.
6. Wetin you like pass about your life for di Congo Basin Forest?
Na how I go just dey waka around di footpath for di forest and di brotherliness wey dey my community. You go feel like say you belong. If you get problem, people go gather help you.
7. Wetin be dat one wey you no like about life for di Congo Basin Forest?
We no too get schools, hospitals and roads. Even though many people dey cut timber, di companies no dey build roads. So when rainy season reach, di roads dey always bad well-well and e dey make movement from one village go di another village hard.
8. Why you want make people join dis ginger to protect di Congo Basin Forest?
People need to join because companies wey no dey give di communities anything dey destroy am, dey make money from di forest. Our livelihood dey threatened as na inside-inside forest we dey enter before we see wetin to hunt.
9. Wetin you go like make everybody for world sabi about di Congo Basin Forest?
If dis forest no dey, many people wey dey depend on am to survive no go see anything chop. Our way of life and local herbs for some sickness na from dis forest.
10. Wetin be your hope for di future of di Congo Basin Forest and di people wey dey live here?
We hope say government go see how dis forest take dey important come put law wey go control how companies dey tap natural resources for here. I also think say di forest dey under threats from big-big companies wey get plenty money. I go like make government support local environmental NGOs with money and skills wey dem go fit use do protection and conservation projects for di Congo Basin Forest.