Cameroon: Village dem around southwest region di empty as shooting di continue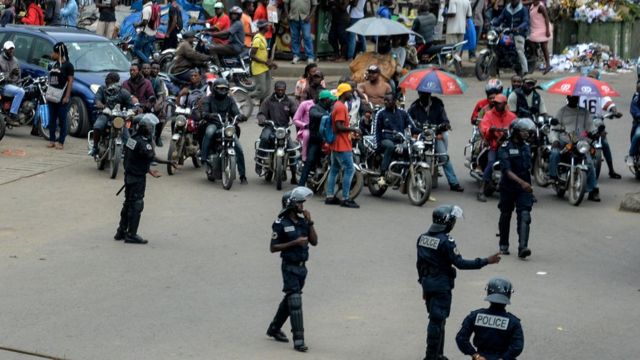 "We deh we so na inside house, we no di komot outside, day weh place clear small we go buy small chop, when place no clear we deh.
Na villager for Mamfe don describe de situation for BBC Pidgin News.
Mamfe na headquarter for Manyu division for Southwest region for Cameroon, weh di share boundary with Cross River State for Nigeria.
Shooting don di deh for Mamfe side for some weeks between de government forces dem and unknown group of pipol dem call 'secessionists'.
"De paramilitary di shoot, de 'secessionist' dem too di shoot. De civilians weh deh kill na pipol for village, de thing be say if you di waka and you no stop when military ask you, deh go shoot, na so dis villager weh we no wan put yi name tell BBC Pidgin News.
Di first time shooting begin na for November 29 weh unknown gunmen kill four para-military officers.
President Paul Biya bi send big warning for 'secessionists', and increase army load of military for Mamfe area.
For December 20, for Kembong village, deh kill anoda four para-military for cross fire between government security forces and 'secessionists'.
De villager for Mamfe weh di give we tori say, "For Kembong village under Eyomojock sub-division, deh burn burn houses, and Kembong pipol deh don run all go na bush".
For inside this wahala, Mamfe market bi burn, now market di start for 10:00am di close for 1:00pm, but normally market na sharp morning time. Villagers dem di wokup see how dey atmosphere dey before deh komot for house.
Na so pipol dem di park di travel, any man di go yi own, especially for de area weh shooting bi start, everybody don evacuate form there. "I don di pack ma thing dem for leave dis town for Saturday, but you know say yi depend how I go see de situation, maybe I go leave before for seka say things fit bad any time, Mamfe villager tell BBC Pidgin News.
HRH, Tanyi Robi one of de four chiefs weh sign release di condemn weti weh di happen, say chiefs dem don ask make both side talk because whatever de problem, for tradition problem di ever end up for palava tree, we di shidong tok because de war go end one day.
Chief say deh nova see group weh yi di fight but say, de pipol weh deh kill say na secessionists, deh di tie something around their head. No group nova komot say na dem kill dis number of officer dem.
Life go only return to normal when government go pull out army den pipol go stop for fear.
Chief Robi di ask say, "make population no di provoke but make deh di cooperate with forces of law and order".
President Biya tell visiting Commonwealth Secretary General, Patricia Scotland for Etoudi yesterday, measures dem weh yi don takam for solve de problem for Northwest and Southwest regions; yi deh ready for dialogue but say yi di use some way dem for bring back order and punish pipol dem weh be responsible for de killing dem.