Cameroon: How Christmas go be for Bamenda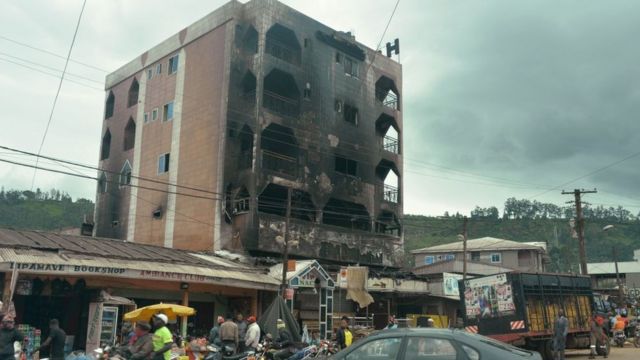 "That SDO ee ban no di helep de present situation." Na so Bamenda man Bongsha Steve tell BBC Pidgin.
Ee say, "if at all ee di do anything, ee di instead helep for enforce de ghost town way de population di get every week since anglophone problem start",
Na SDO Pierre Rene Songa sign order for 20 December say make de population no di waka after 9pm to 5am inside Mezam division for Bamenda for northwest Cameroon region.
Bensikin no go waka for dis curfew time and DO call for bar and off licence owner dem make dey respect dis time for close.
But yi add say "bar and off-license owner weh get celebration weh yi extend pass 9pm deh fit ask for authorization for get more time.
Even though population di vex say curfew go di kill down de spirit of celebration for dis Christmas season, de glad sotey say DO ban knockout.
Carine Mengnjo, mami weh yi deh for Mezam, say yi no get trouble howeh DO for Mezam ban knockout. "De sound di irritate me too much. Di thing na waste of money and yi di make pickin di stronghead, though for pikin dem na fun".
Aisha Mohammed support de knockout ban, "E be correct because de atmosphere don already be tensed". But some pipol de ask if de knockout ban go work.