Cameroon: De 48-hour ultimatum for Nigeria to release separatists di run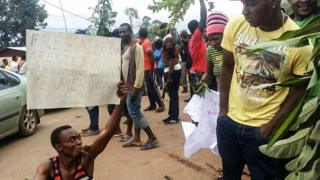 Tick-tock, tick-tock, na so de 48-hour ultimatum weh African lawyers give say make government release secessionist leaders dem di pass
De African Bar Association send Nigerian government letter make deh release Southern Cameroon leaders weh dey sure say na Nigerian security authorities abduct.
When BBC News Pidgin tok with African Bar Association President, Hannibal E. Uwaifo dis morning, yi still say signal nova dey as to where de leaders dem deh: "we still deh for dark, especially family member dem for de leaders."
Uwaifo say Nigeria na respectable member for international community and yi suppose respect United Nations Convention on Refugee and charter for Human rights with some plenty other law dem weh de di give refugee right.
"Nigeria na de giant for Africa and e suppose for lead, so we no dey happy say dis kain thing fit happen for inside Nigeria and we go laik for get explanation."
Cameroonian dem di worry say sometime de kidnappers dem go use kona kona way for smuggle de separatists for take dem back for Cameroon.
But Oga Uwaifo say "na totally illegal act for seka say dey no fit komot pipo weh get refugee status, weh deh di run from conflict, bad-bad thing and genocide, take dem back for place where deh di persecute dem.
"Ah check say Nigerian government know de law, e go be violation and i di pray say Nigerian government no go do so," na wetin yi add.
Nigeria nova tok any thing since weh de separatists leader dem di miss, but African lawyer dei boss think say government fit di do investigation, or government notice some kain illegal deals and wan for protect de pipo dem.
"Nigeria no get right ontop local or international law to join hand with Cameroon for commit illegal act. We hope say President Biya and President Buhari dem know weti weh e mean for carry out illegal act."
Weti di lawyers de don ask na say make deh release de leaders dem, ask for forgiveness and pay dem compensation. Also deh say make government investigate how be abduct de southern Cameroon leader dem.