Hawaii fake alarm: See 3 times panic turn to be lie inside West Africa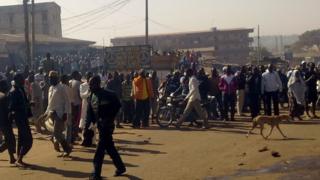 Di panic and fear wey cause people run left, right and centre just di oda day for Hawaii, United States on top 'fake' ballistic missile attack, na something wey people inside West Africa fit relate.
Dis latest one for Hawaii state, US na text message na im di rumour monger take catch people but before government go discover say na lie, e don spread like wild fire:
Dis kain thing don happen before for parts of West Africa, although e dey different.
See some of di false alarm wey cause serious panic wey even kill people inside Nigeria, Ghana and Cameroon.
Nigeria Ebola salt water rumour
At least two people die because of this fake text message dat time.
For September 2014 when Ebola virus begin spread for west Africa, na im one kain text message enter people phone for Nigeria say make dem drink plenty of salt water to avoid di virus.
Tori be say people fall wella for dis joke wey start on top social media so tey e reach 20 people wey dem carry go hospital because dem follow drink di salt water.
Di government for Nigeria quick-quick run come outside say na lie oh, but before dat one, some wey fall for di rumour don lose dia life.
Jakiri panic after Nyos Lake Gas Explosion
After di August 1986 gas explosion wey kill pass 1,700 people for Nyos Lake area for di north west region of Cameroon, na so people wake up one morning years after to begin panic say another gas explosion wan happen for Jakiri area, for di same region.
Nobodi know where di panic dey come from, but everywhere scatter. Some begin give dia pickin oil to drink, odas begin run on top fear say gas wan explode.
Finally e happen say nothing like dat be true.
Ghana Earthquake Rumour
For January 2010 na so text message begin fly overnight dey quote US space agency Nasa and BBC say na dem say "cosmic rays" go land for Earth.
By early morning di next day, people don conclude say na earthquake wan happen for Ghana (di rumour begin spread just one week after one bad earthquake happen for Haiti) so people begin panic, pack dia load comot from dia dormot.
Na one government minister run go local radio stations to calm people across di country, come tell dem say na lie.