How di herdsmen and farmer palava take start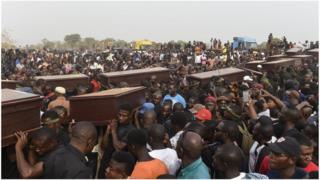 34 year-old Terkinbi Gwa say im and im brothers still dey shock and dia heart cut since herdsmen kill dia father for 1 January 2018 for Guma village, Benue state for Nigeria.
E say im father wey be Julius Gwa, bin go village for Guma to go harvest im crop when di attack happen.
E come add say im don loss im friend and mentor and e dey worry am well because e no know how to pay im brothers school fees since im no get work.
Jimmy Meeme, di local chief for Logo village say dem burn im house and kill 3 members of im community.
Na 73 people die for di 1 January 2018 attack.
How di palava reach dis level?
Di fight-fight between Fulani herdsmen and farmers don dey happen tey-tey. For 2012 and 2013, nine attacks happen and more than 190 people die.
May 7, 2013: People wey dem suspect be herdsmen attack people wey go burial for Agatu, kill 47 people and 7 days after another 40 people die.
July 5, 2013: 20 people die for Nzorov, Guma LGA, Benue state.
For 2014, 16 attacks happen and more than 231 people die.
Feb 20 - 22, 2014: Herdsmen attack six villages for Gwer West Local government and kill 35 people.
March 6, 2014: 30 die for Kwande, Katsina/Ala and Logo Local government.
March 29, 2014. 15 people die for Senghev for Gwer-West for allegation of chemical weapon
Di herdsmen attack Governor Gabriel Suswam convoy burn late Tortiv Alfred Torkula house
Di number of death shoot up for 2015 as 335 people die after 8 attacks happen
March 15, 2015.for Egba village for Agatu LGA herdsmen pursue people kill 90 people
April 27, 2015 dem kill 28 people and attack 3 villages for Guma.
May 11, 2015. dem attack Ikyoawen community in Turan Kwande LGA and 5 people die.
For 2016 , 537 people die and na 8 attacks happen.
Feb 21-24, 2016. 500 people die as herdsmen attack 7 villages for Agatu and pursue 7000 from dia house
Young Benue people protest go National Assembly and Senate David Mark visit di area.
Feb 8, 2016. dem pursue 300 people and kill 10 people for Tor-Anyiin and Tor-Ataan in Buruku LGA.
Di attack for 2017 happen 5 times and 43 people die
January 24, 2017: 15 people die for Ipiga village in Ohimini Local Government Area
March 2, 2017: 10 people die for Mbahimin community, Gwer East Local Government Area
March 11, 2017: 7 people die for Mkgovur village for Buruku local government area