'British Airways you push we to di wall' - Ghana Minister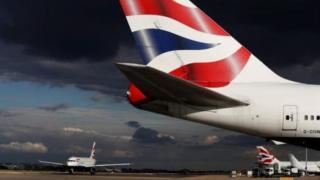 British Airways management for Ghana say dem go start make vigilante den monitor demma aircrafts to stop bed bug inside flight, after Ghana Aviation Minister open fire on dem.
Aviation Minister Cecilia Dapaah tell di airline say: "I for be honest, you push we to di wall, very soon you go hear from us sake of we no go sit down make dis continue dey happen."
For demma official response, Leroy Ankrah wey be British Airways Public Relations Officer for Ghana say: "di presence of bed bugs be issue wey dey happen occasionally for hotels den airlines all over di world. British Airways dey operate more than 280,000 flights for 280 routes every year wey reports on beg bugs be extremely rare. We dey vigilante den continually monitor wanna aircraft. Di comfort of wanna customers be top priority dat be why wanna specialist team take immediate steps resolve di matter."
All dis one come after Madam Dapaah say: "you dey enjoy complete monopoly for here wey you still be ungrateful to us, we dey give you di best treatment sake of dat dis matter we take am serious. Me den Ghanaians no fit understand, we no go fit tolerate dis kind tin for wanna country."
According to di Minister, British Airways for do major reforms for di airlines demma services to Ghanaians, as Ghanaians dey complain about why dem move dem from Terminal 5 to Terminal 3 for Heathrow which be frustrating.
She also talk dem say Nigerians dey pay around £900 from Heathrow to Lagos, so she no dey understand why Ghanaians dey pay £1300.
Di minister no stop there. She say luggage allowance too be challenge give Ghanaian travellers sake of dem get small space while Nigerians get chaw space when dem dey fly.