Italia 90' defender Massing no bi laik yi problem -Ndip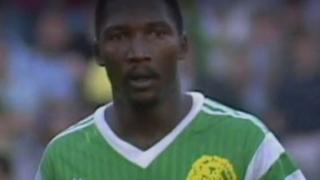 Victor Ndip Akem, teammate for Benjamin Massing for Italy for 1990 say e go mimba Massing weh deh mount defense together for Cameroon vs Argentina match as some person weh e no be liak problem, tell BBC News Pidgin.
Massing die for December 10 for Edea for di Littoral region for Cameroon and deh be suspect say na heart problem because yi no be complain say e di sick so they just see weh yi don die.
De komot Massing yi dead bodi yesterday and some football figure dem be deh, like di Cameroon roving Ambassador, Roger Milla, Michel Kaham, Geremi Njitap, Seidou Mbombo Njoya.
Tomorrow deh gon bury yi for Edea.
Akem say: "memory weh a get for my friend Massing Benjamin deh plenty as we play face to face when e bi deh Bamenda, for Canon for Yaounde, and for Diamand."
"Massing kam meetup me for national team for 1988. E bi be na some man weh e be get pity, e bi liak friends, e be get good heart, and e be care for how yi be di do e thing dem."
Akem add say e bi sad plenty when deh call yi sharp morning for announce say Massing don die.
"For 1990 me and yi be deh for central defense for national team, de whole world be see weti weh yi bi do. De whole Africa be deh proud say Cameroon win Argentina for 1990," na wetin Akem talk as yi deh mimba how deh play de match.
For 1990, Cameroon surprise de world as de bi win dia first game against Diego Maradona and Argentina 1-0.
Italia 90' go remain fresh for di mind of Cameroon football lovers and world, as Massing wey be like bulldozer, stop Argentina player Claudio Caniggia, with one hard tackle.
Caniggia bin don dribble two players, but when im reach near Massing, di defender put force jam am troway, sotey im boot comot and im get red card.