People's President Odinga start build state house plus 'Facebook blocks' from Ghana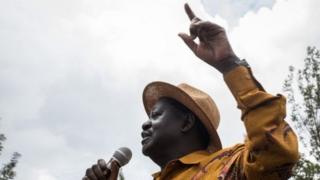 Kenya Raila Odinga secure in first material for construction of in state house as people's president plus 'Facebook blocks' from Ghana.
Abeku Adams chop block for Kenya demma self-appointed people's president Raila Odinga in der after di paddy in comment fly tee like 'asangoli'.
Di comments wey Abeiku make get like over 1,000 reactions den over 400 comments, chaw of di menerz dey support di Ghanaians Facebooker.
Di Ghanaian reveal for in Facebook wall top sey some loyalists of Raila Odinga start dey message am for in inbox dey diss am.
Be like di people's president make wild plus in intentions to govern sake of dis blocking he start dey do for Facebook go be massive sake of he fit block chaw menerz take finish build in virtual state house saf.
United States den African Union (AU) criticise opposition leader Raila Odinga den in mock swearing-in for January 30.
For press statement inside on January 1, US describe Odinga in actions as "unconstitutional" sake of President Uhuru Kenyatta in election for October last year get backing from Kenya demma Supreme Court.