Cameroon go elect senators for March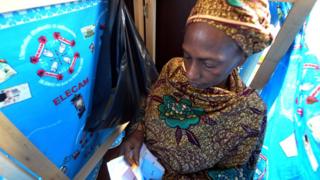 2018 election process for Cameroon don start as President Biya sign decree weh e fix election date for senators.
Dis wan na deh first election for 2018 but some pipo think say council election for take place before senator dia own, how wey na counsellors suppose vote for senators.
Analyst say Paul Biya as e sign decree weh e put election date, e respect constitution and respect timing for fix date 40 days before election.
•Cameroon: Opposition wan hold dia Congress
•Cameroon: Fru Ndi nova say e no be candidate for elections
•Cameroon Election: De race done start
De taim for de senator dem weh di act now suppose finish for 14 April 2018. For yi new year address President Biya bi say 2018 na important election year and e go do everything for see say de election pass inside peace and security.
Plenty political party dem don di mobilise for put pipo weh deh go represent dem for elections.
Na three members dem di warm up for main opposition party Social Democratic Front-SDF while Ruling Cameroon People's Democratic Party-CPDM member dem for Lekie division don contribute 30,000million for make sure say President Biya remain dia life candidate.
Some party dem even gather put Barrister Akere Muna as person weh e go represent dem for presidential election.