Cameroon graffi tradition steal show for youth week fare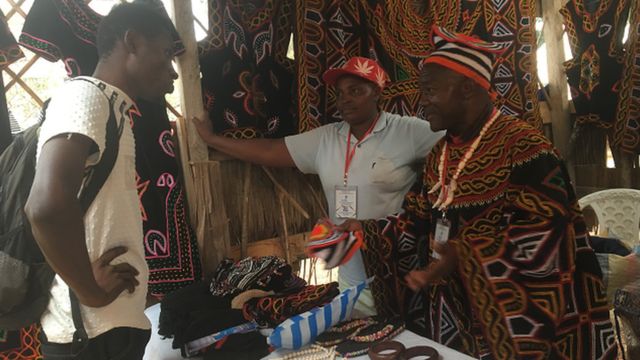 Youth Affairs and Civic Education Minister, Mounouna Foutsou organise trade fare for youth week for national museum, invite pipo dem for kam show case tradition for youths.
De bright colours for kontri clothes weh na part of grass-field tradition for Northwest di attract young pipo weh kam for pass time for youth week for national museum.
"De youth week di move fine-fine how minister don invite we for this village for showcase our grass-field (graffi) tradition for Northwest for youths dem", Joseph Melak weh na promoter for kontri clothes tell BBC News Pidgin.
We kam for present konti-clothes for youths, make deh know dia culture. We di explain say na clothes weh deh di wearam for palace for Bamenda side, Melak add. Market di pass small small, even if no be for way way we laikam, de know your culture promoter tok.
Eveline Nchubu, promoter African Culture say e don di sell de clothes dem for 23 years and de business di helep yi for pay e pikin school fees. "No be any kain clothes de youth dem fit wear and we di make small price for dem", Nchubu tok.
Wan person weh e kam buy, Bunyo Bertrand, science student for University of Yaounde 1 say as na youth week e di waka and as e see shop for traditional clothes e kam feed e eye.
"Ah see one kontri clothe weh ah laik and ah buy so dat when ah komot for road ah go di hiyop with my tradition", Bunyo tok.
As youth dem for Yaounde be di relax for trade fare village, drink, chop, snap picture, for Bamenda most pipo de dey na inside house because of unrest weh et dey Abakwa.
Cameroon di celebrate 52nd edition for youth day and youth dem di wait for message weh president Biya go give dem.