Cameroon cocoa farmers don go school for taste chocolate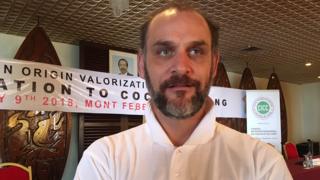 Cameroon Cocoa and Coffee Board, CICC don join hand with Ministry of Trade for organise cocoa tasting for farmers dem.
Farmer fit know if e cocoa get fine quality from de way e chocolate di taste, na so person weh e make and sell chocolate, Alexandre Bellion, (Chocolatier) tell BBC News Pidgin.
Bellion weh teach farmer group dem how for taste cocoa for scientific way, say plenty farmers dem no know taste for chocolate.
Na de reason weh e di teach dem na say make deh fit also transform de cocoa beans to chocolate for know de quality for dia cocoa and make difference with cocoa for oda part for kontri.
"We di look for cocoa beans weh e no get sour, bitter taste, but weh e get fine aroma. For get dis taste farmer get for work for some kain way, respect best practices", Bellion tok.
"We lack fine cocoa beans and we deh ready to pay for get fine beans", e add.
Bellion say quality di start na for farm, farmer get for follow de good practice dem, and e di take three days for learn how for taste chocolate.
Daniel Mendogo Bekono, young boy weh e farm cocoa with e papa for 14 hectares tell BBC News Pidgin weti e learn. Im say: "We don learn new thing dem for ameliorate our cocoa production, for put together quality and quality".
"De good practice na for keep we farm fine, komot grass, plant with space for farm, put more hygiene make old cocoa produce more".
For ameliorate cocoa production, Cameroon sign convention with 'Chocolatiers and Confiseurs' for France and na for seka dis collaboration weh Bellion kam teach farmer dem for Cameroon.
Dis training na CICC project, 'cocoa against chocolate' weh e wan make farmer too de promote Cameroon cocoa and make deh di chop'am too.
De training go helep Cameroonians make difference for cocoa for kontri for dia taste and aroma.
Cameroon di plan for go present e cocoa weh e get unique taste for big chocolate meeting for Amsterdam dis year.
CICC don put plenty programme laik 'New Generation' for encourage young pipo for farm cocoa and system weh farmer di get information for price for world market fast.
Cameroon di target for produce 600,000 tons for cocoa and production still deh around 300,000 tons.