Martin Amidu: 7 hours vetting, 181 questions, 21-gun salute for 'Killer Nkuto'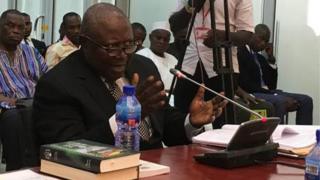 He come di vetting like he dey go war, as he dey talk in body dey shake, in eyes dey pop out, he bare in teeth, one thing be clear; Amidu mean di job.
Ghanaians watch 7 hour nkuto vetting den 181 bullets den take fire am as questions, but like in name "Killer Nkuto" never back down as he return stronger. A day on Ghanaians give di 66-year-old anti-corruption crusader 21-gun salute for in performance.
"I no be intimidated by parliament, I go deal with corrupt MPs squarely" be one of Martin Amidu in direct cautions to Members of Parliament for in vetting under yestee as Special Prosecutor nominee.
He talk members of di committee after dem quiz am on the criticisms wey he level against parliament.
He make in mind clear give Ghanaian politicians say he no go sit down den allow make dem turn Ghana into "milking cow."
Most Ghanaians monitor di event throughout di day wey chaw menerz express demma opinion on Amidu.
One sure thing be say nobody wey go be corrupt be safe, even di president wey nominate am for di job.
Di Special Prosecutor nominee declare give Ghanaians during di vetting say he no be fit leave plus criminals, he go deal with them brutal.
Some Ghanaians dey propose say make dem even make Amidu Special Prosecutor for life, sake of he proof in body beyond doubt say he go deal with corruption for Ghana.
After di vetting, some MPs reveal say dem be very certain say di committee go endorse Martin Amidu in nomination. Meanwhile, minority MP for Bawku Central Mahama Ayariga reveal say dem too go endorse Amidu overwhelmingly.