Cameroon: Sharp-sharp Valentine's Day business dey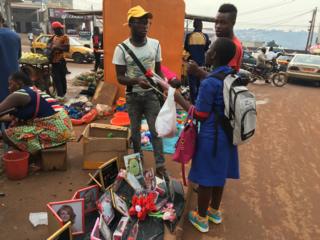 Pipo dey celebrate day for Saint Valentine for di own way, some di buy gift, laik flower, love message and odas na chocolate.
Roderigue Didier na student for Yaounde II Soa weh say when e no dey school, e di do small business and na so e get chance today for sell. Na dis business Didier di do every Valentine's Day.
E tell BBC News Pidgin say: "De business di waka small-small, ah don already sell laik 10,000frs and I sure say ah go sell laik 25,000frs before de day go end".
Didier get different price dem for flowers, poem and sweets: 100frs, 200frs, 1500frs, 1000frs, 2500frs and na so young pipo di buy sotei for dis round-about for Damas quarter for Yaounde.