Cameroon: SDF don elect 'Yoor', flagbearer for 2018 elections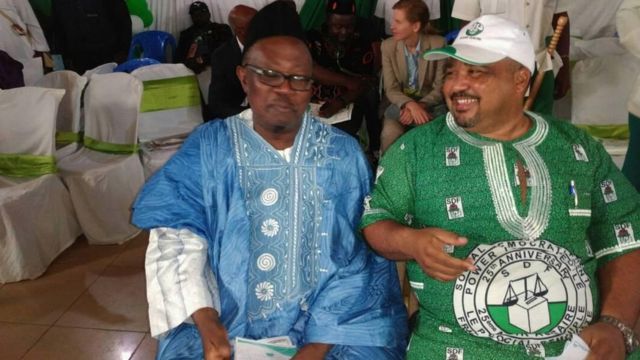 Cameroon main opposition party, Social Democratic Front, SDF don end e convention for Bamenda as dey elect 'Yoor' Honourable Joshua Osih as flagbearer for de 2018 elections.
Delegates spend night for Bamenda Congress Hall and dis morning dey do election between Simon Nchinda Forbi and Joshua Osih. Osih win as over 1021 delegate vote for yi and Forbi only get over 134 votes.
E first word dem, Joshua Osih promise e party say Etoudi presidential villa go be dia own dis taim.
De flag bearer don say deh go make campaign for de ten regions dem for get voters when taim reach.
Even as de party don elect 'shine-shine man' for bi de party e candidate for 2018 elections, Ni John Fru Ndi hold tight as chairman.
De convention bi get something dem weh make pipo tok, picture for Paul Biya bi hang for de wall of de Congress Hall as SDF convention bi di go on.
Pipo open mop as dey see Titus Edjoa, former minister weh e bi go prison for SDF convention. Den ruling party big member Gregoire Owana too attend SDF convention and some pipo say Cameroon don go back for one party system. But SDF explain say dey invite oda party dem.